Admin users and above have access to data related to the tickets sold for their events via our platform. The most frequently requested information related to events is available via the "Manage" page for any event. Any other information can be viewed and downloaded via the "Reports" section of the main navigation menu.
Event Specific Reports
Most often the data needed is related to a single event in our system. If that is the case, then you can easily navigate to the event's management page for the report you need. Check out "Using the Event Dashboard" for exactly what you want.
Navigating the Reports Section
All data can be found in the "Reports" section while logged in as a portal or organization user (admin or above). Once logged in, use the left-side navigation menu to go to "Reports" (see #1 in image below).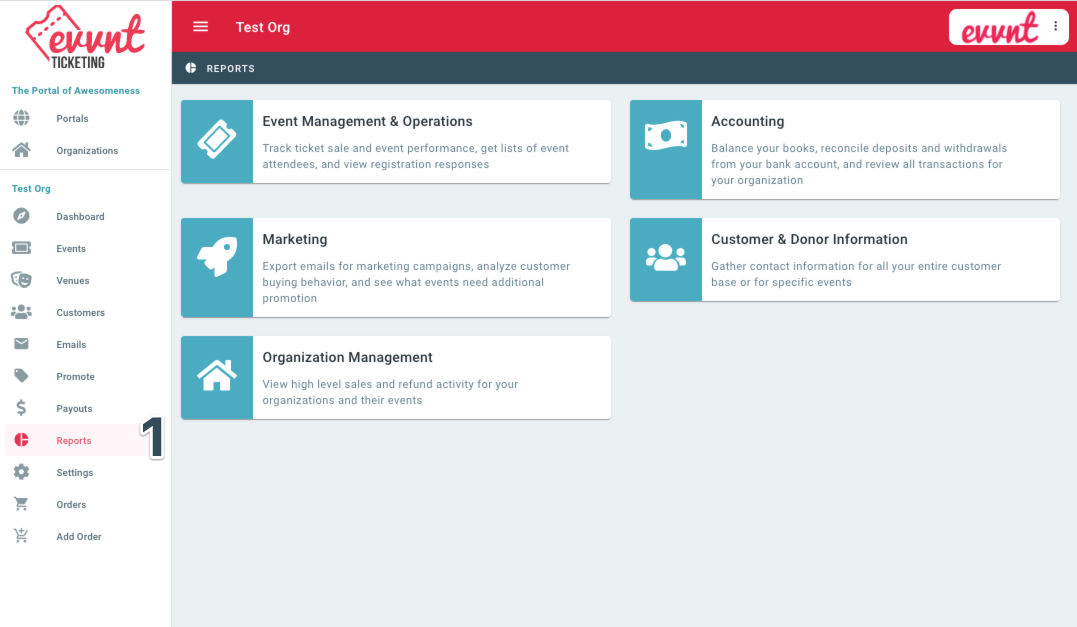 Categories of reports:
Event Management & Operations - track ticket sale and event performance, get lists of event attendees, and view registration responses.
Accounting - balance your books, reconcile deposits and withdrawals from your bank account, and review all transactions for your organization.
Marketing - export emails for marketing campaigns, analyze customer buying behavior, and see what events need additional promotion.
Customer & Donor Information - gather contact information for all your entire customer base or for specific events.
Organization Management - View high level sales and refund activity for your organizations and their events.
Simply click into any of the available categories to see any available reports (image below).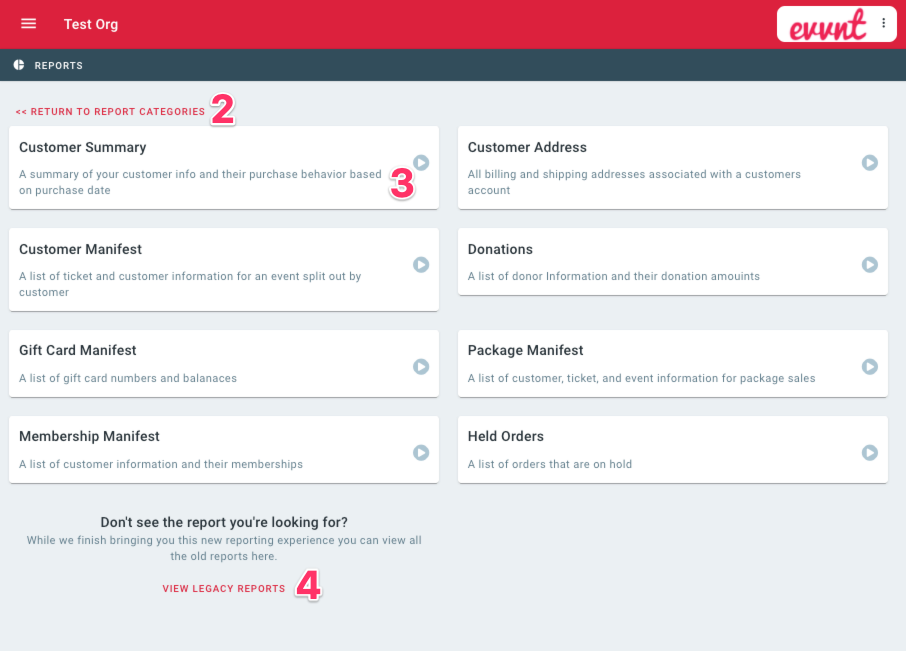 Click on the "Return" link (#2) to go back to the categories, or click on any report (#3, for example) to view the available data. If you are looking for a specific report you have used in the past, there is still access to our legacy reporting pages (#4 in image above).
Downloading Data
All data available in our reporting section can be downloaded as a file of 'comma separated values', also known as a .CSV file. This can be opened in any spreadsheet program and sorted or parsed as needed. Once you have clicked on the desired report you can select from the available filters (#5 in the image below) and view the data on screen. To download the data, click on the cloud icon (#6).

If you are unable to find the data you are looking for, don't forget to check the event management dashboard for event specific reports. Also, you can still access our legacy reports section.