Our reporting options are available from the "Reports" menu. You can also find event specific reports when you are viewing your event.
Event Specific Reports
Event specific reports are available in an Event Dashboard. This is where you will find the ticket and customer manifests for your event, as well as the answers for custom registration questions you may have added to your event. Most of the data you need to run your event is available here; you can read more about using the Event Dashboard.
You can export specific event data using the following method.
Select the appropriate date(s) for the report (only for a recurring event).

Next select the report you need from the Event Reports section.

This will load a page that will display the first 10 lines from the report.

You can then click the cloud icon to download a ".csv" file of the data.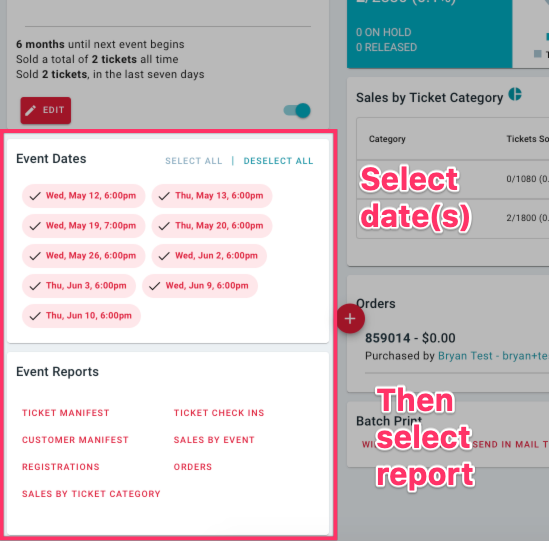 All data can be found in the "Reports" section while logged in as a portal or organization user (admin or above). Once logged in, use the left-side navigation menu to go to "Reports" (see #1 in image below).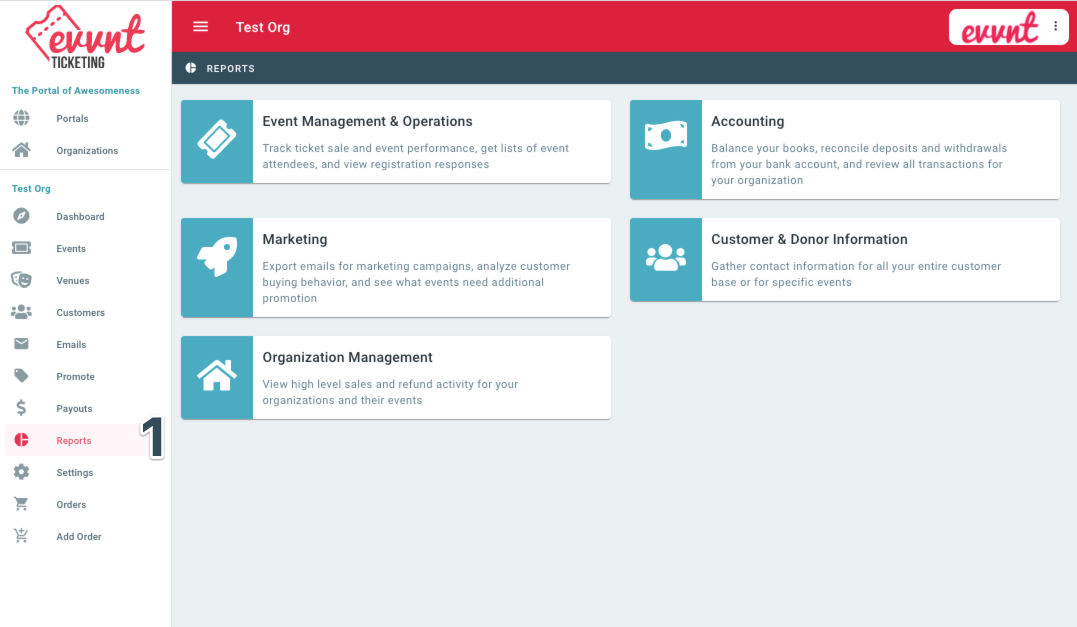 All data available in our reporting section can be downloaded as a file of 'comma separated values', also known as a .CSV file. This can be opened in any spreadsheet program and sorted or parsed as needed. To download the data, click on the cloud icon (#6).

The Reports section is organized into categories. Simply click into the relevant topic and select from the available reports. Data will appear based on the selected event and then filtered by purchase date. You can also leave the event selection empty and you will see data from all events within the date range that you select. See #5 in the image above.
Customer Summary reports can be found In the "Customer & Donor Information" section. This allows you to find data by selecting an event or a period of time when that user made a purchase. The Summary will include first and last name, email address, and a number of items related to their ticket purchase history.
You may also find customer data in the Event Management section. Note that customer name, email, and billing address are collected for each order, so an order report will show those items.
By default, we do not collect phone numbers, but there is an option to enter a user phone number manually by editing the customer record. 
The customer addresses we collect are labeled as billing addresses and available in the Customer Address report. Currently, customer addresses are not available for transactions that used a mobile wallet payment type.
Data collected by a customer Registration Form will be available in the Event Dashboard report options as well as in the Event Management & Operations option on the Reports page. This data is not stored with a customer and only available in this report.
From the Reports page, select the Accounting option:
The Payout History will show the record of past payments.
Payout by Item option will show which transactions were included in a particular payout.
The Transactions report is ideal for finding order and date for refunds, donations, and any ticket or non-ticket items that created a transaction. It will have a column showing the Payout Date and Payout ID in which that transaction was included. If it has not been paid out then this column will be blank.