Recurring events allow you to specify the images, details, and ticket settings for a single event and then add multiple dates for separate occurrences of that event.For example, a theater production may have a single show that has multiple performances. Because the images, details, and ticket settings for all the performances are the same, they can use one recurring event to make all the separate performances. The theater creates one event that has multiple dates set over the course of several weeks. This allows the theater to edit just one event and have those edits appear across all of the occurrences.
Create a Recurring Event
Be sure not to exceed
90 occurrences
in a single event. If you need more than 90 occurrences, please split them up into chunks of less than 90 per 'event'.
To create a recurring event, select Recurring for the event type during the event creation workflow and then click Add Dates. You can also add additional dates to an existing recurring event after it is created.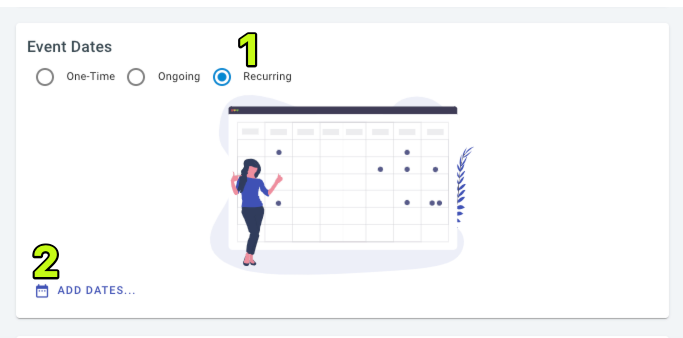 In the window that appears, choose whether the event will repeat on a daily, weekly, or custom schedule. Then specify the start and end times for each occurrence and select the run time and save the dates. It will create all the instances based on the parameters provided. You will be given a chance to review the occurrences created.
Example of a Daily Recurring Event
For example, if a tour occurs daily from 5 pm to 7 pm for the month of August, I would select Daily, specify the start and end times as 5 pm and 7 pm, and then set the run time for August 1 through August 31. See image below for example.

Your dates will only be added to your event when you click "Save Dates" in the bottom right of the card. Clicking Save Dates saves the configuration entered and then displays a summary of the dates added.

To add another set of dates, simply click the Add Dates button and follow the steps above. Each set of dates that you add for your recurring event will share the same event details, images, ticket settings, and advanced settings.
Example of a Weekly Recurring Event
In the example animation below, a show is being set to occur weekly Thursday through Saturday at 6 PM, then a second set of weekly dates were added for Sunday at 2 PM. Since the opening week doesn't have a Thursday performance, I can expand that set of dates and delete that occurrence.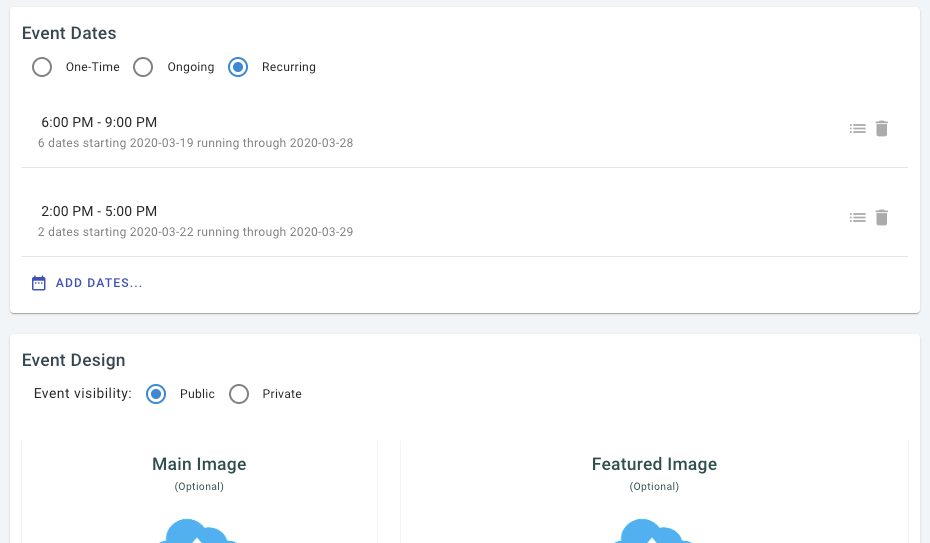 When you have finished the event creation workflow, you will then land on the Edit Event dashboard for your recurring event. You will see a global toggle to activate or deactivate all occurrences for the recurring event as well as actions each individual occurrence to activate or deactivate them independently.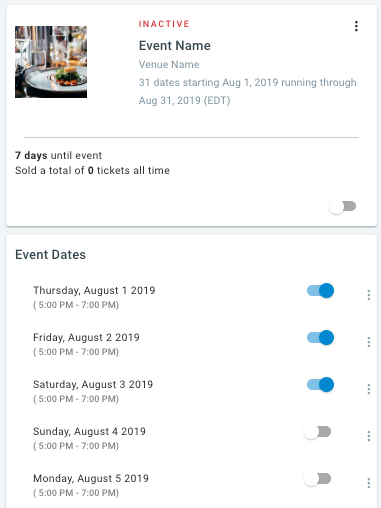 You can click Load More to view additional occurrences for the recurring event or use the Add Dates button to create additional occurrences for this event.