As of November 2019, we have a new seating chart editor in our system. In this article, we try to cover all of the basics to get started. The image here shows the main layout for the editor. Below we will highlight the tools for selecting and placing objects, as well as looking at how to label and categorize seats via the information pane.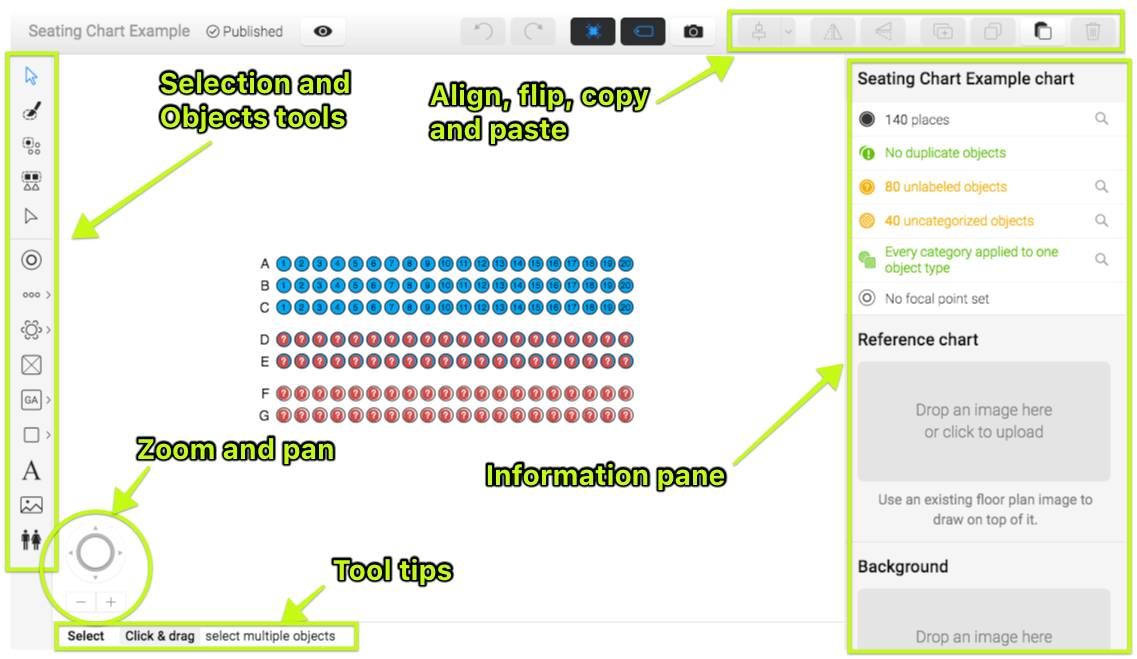 Selection Tools
Selecting Rows
The first set of tools offers different ways to highlight or select seats. The standard pointer tool will select rows, and holding shift will allow you to select multiple rows. The next option is a paintbrush that will let you click and drag to select all the rows in your path. This unique tool is helpful when tables are laid out in a nonlinear configuration.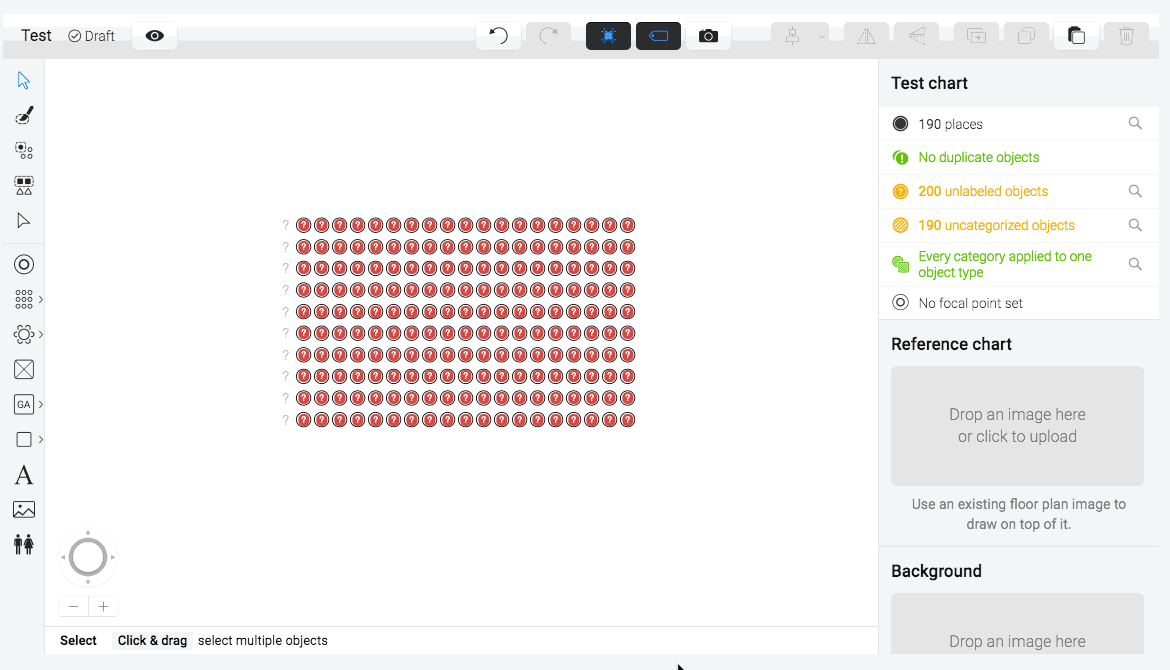 Selecting Seats
If you are trying to select individual seats in a row you can use the "Select seats" tool that is under the selection brush tool. This is a useful tool for assigning accessible seating categories to seats at the end of a row, for example. This tool will also let you hold shift to select multiple seats at once.
The next tool down will select all the seats of the same type. This is useful for grabbing entire sections without having to click and drag to select all the seats.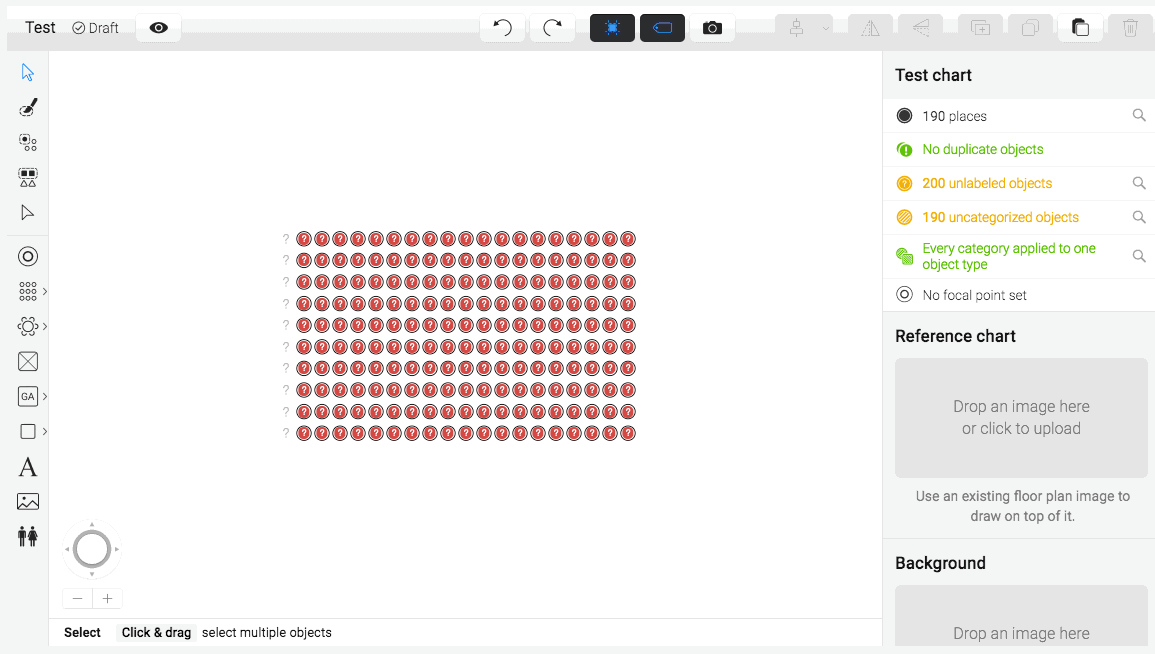 Object Tools
The second set of tools are the "object tools". Some objects can be reserved (seats, tables, booths) and some are just visual objects to help describe the venue (text, images, icons).
Seats, Tables, and Booths
The object tool for placing seats will allow you to place rows or multiple rows at once. Clicking on the tool will show different options. The "multiple rows" tool will let you place an entire rectangular section. This is useful for creating evenly spaced rows, even if your section is not uniformly rectangular as you can shorten or lengthen individual rows after they have been placed by this tool.
Tables and booths are also able to be reserved. Placing these objects can be done with the respective tools (see animation below).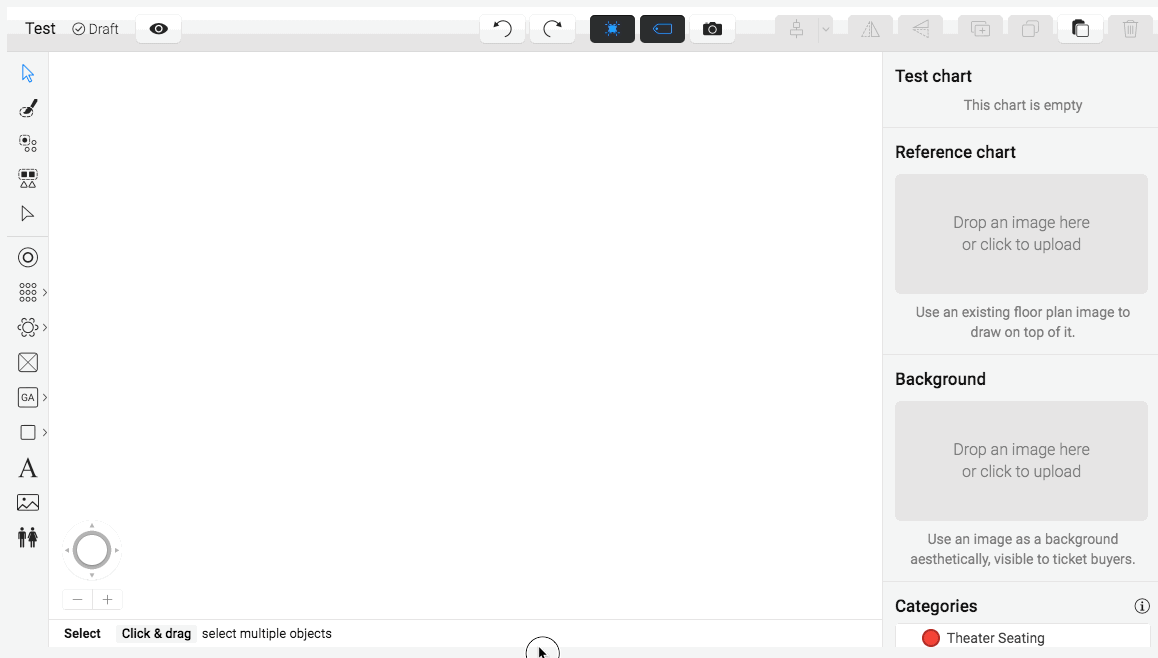 General Admission Sections
When a seating chart is used in an event that includes a General Admission ticket category, there must be a GA section to define those tickets. The GA section tool can be a circle, rectangle, or any other polygon. When a GA section is first created it will be grey. Using the select tool to highlight the section will show the info pane where you can select the appropriate ticket category from the event for General Admission.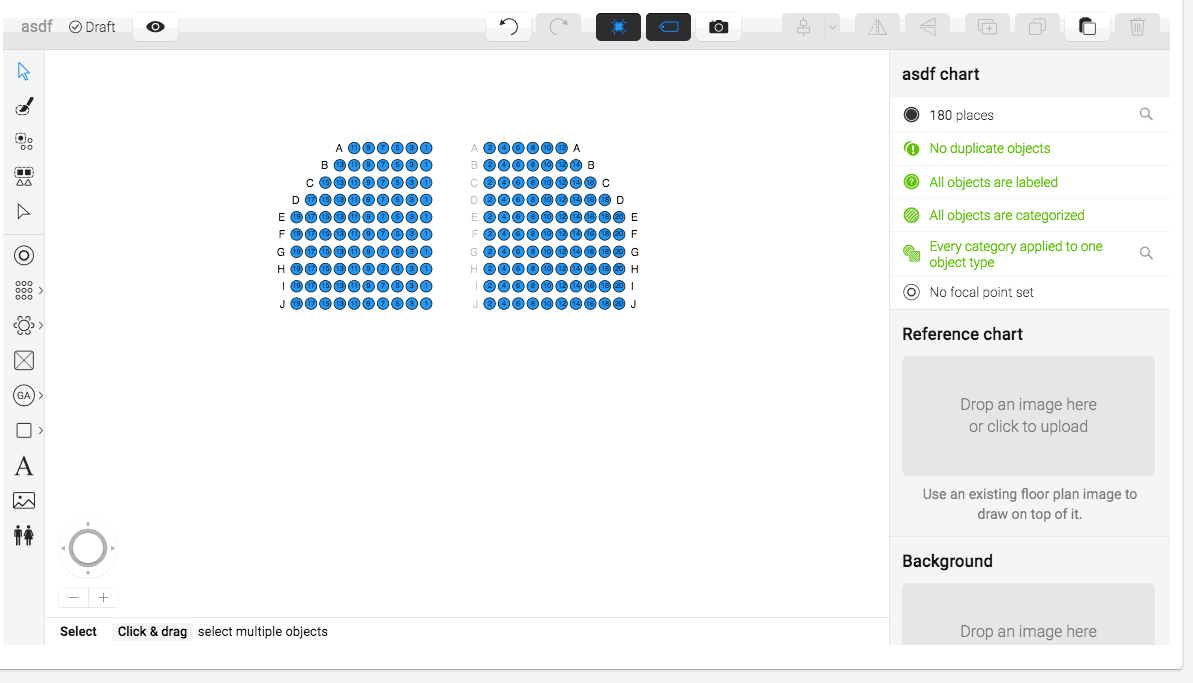 Shapes, Icons, Images, and Text
If you have ever wanted to add an icon to show where the exits or bathrooms are in your venue, now you can! These tools can be used to add shapes, icons, images, and text. These objects are simply visuals that you can add to your seating chart.
Align, flip, duplicate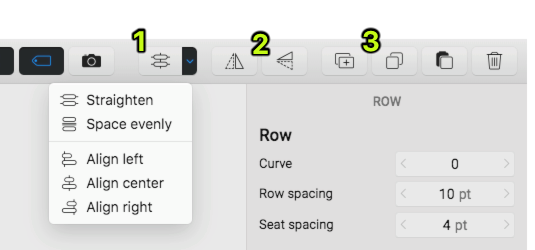 These tools allow for sections to be nicely organized. The options available:
Straighten, space evenly, or align the objects that are selected
Flip horizontally or vertically
Duplicate, copy, or paste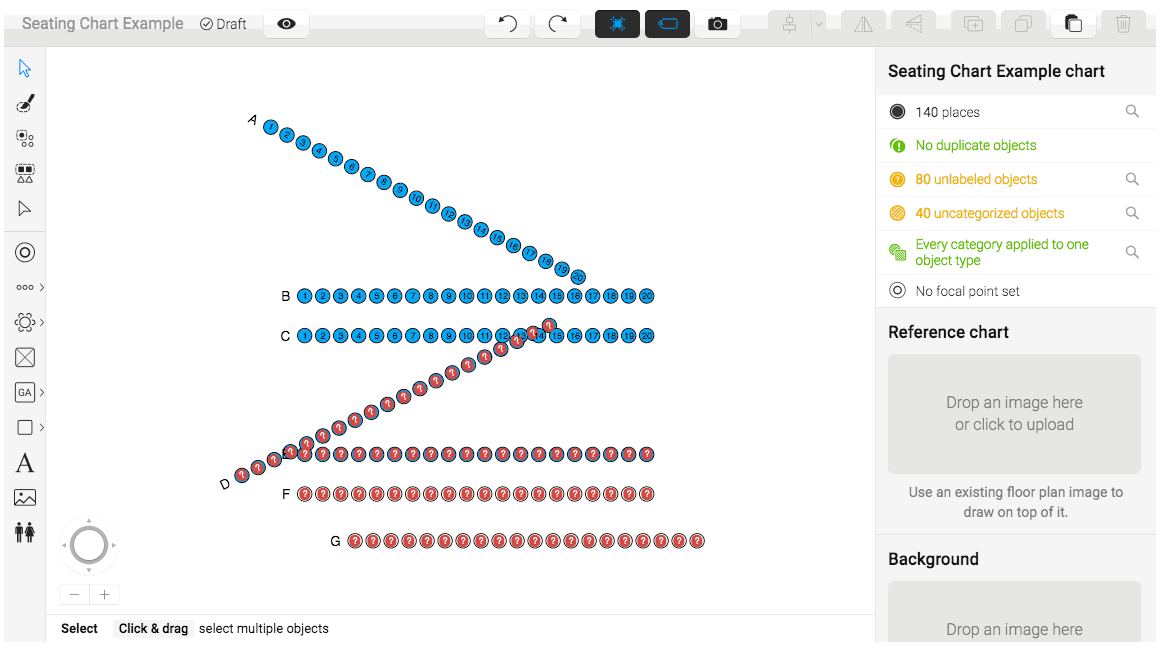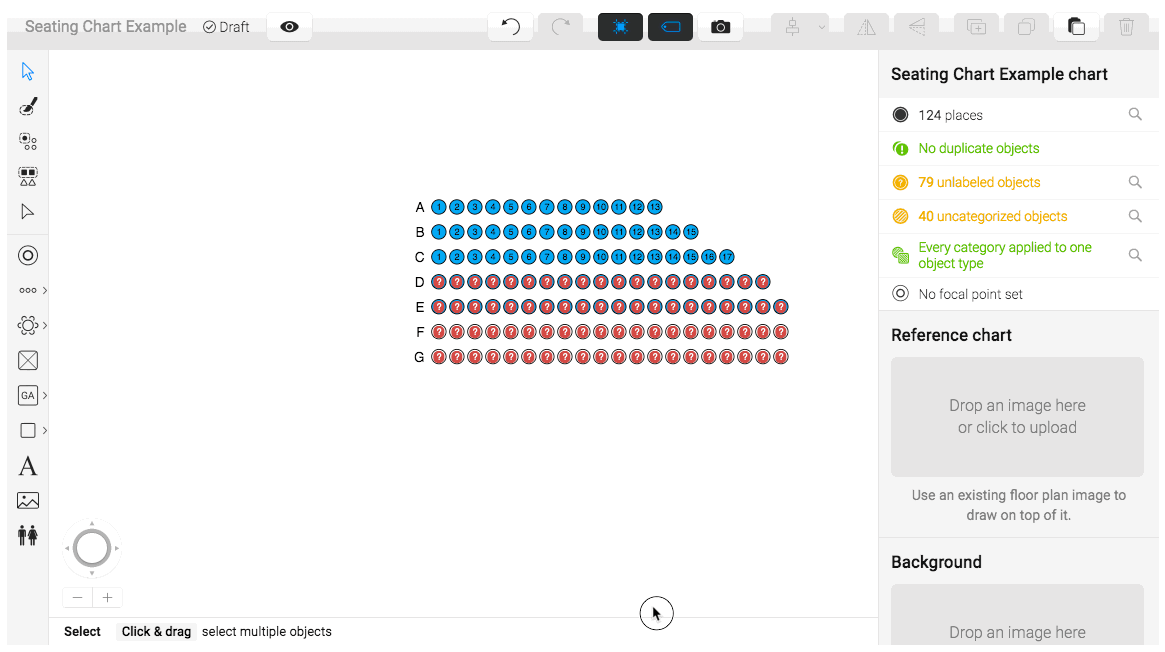 Labels and Categories

To understand how labels and categories are displayed, let's look at this image of the seven rows, A thru G. Note that the seats are showing different colors and different labels. The first 3 rows (A, B and C) have labels for the seats and are showing those seat numbers. Rows D thru G have no seat labels and are showing question marks because they are unlabeled objects.
Looking at colors, rows A thru C are blue because they have had a blue category assigned to them. Rows D thru G have red highlighted question marks because the seats are not labeled, but rows D and E do have a hint of blue showing because they have been assigned a category. However, rows F and G are outlined with white as they are uncategorized objects.
If seats are unlabeled then the seating chart will notify you with yellow alerts in the information pane (when no other object is selected). Clicking on the magnifying glass will help identify what objects are having issues (see below).
To add labels, simply select the rows that you would like to label. When selected, the information pane will show options for seating labels. For both rows and seats, there are options for different types of sequences, adjusting the starting value, and a direction toggle for the sequence. For rows, there is an additional option to move where the row label with be displayed.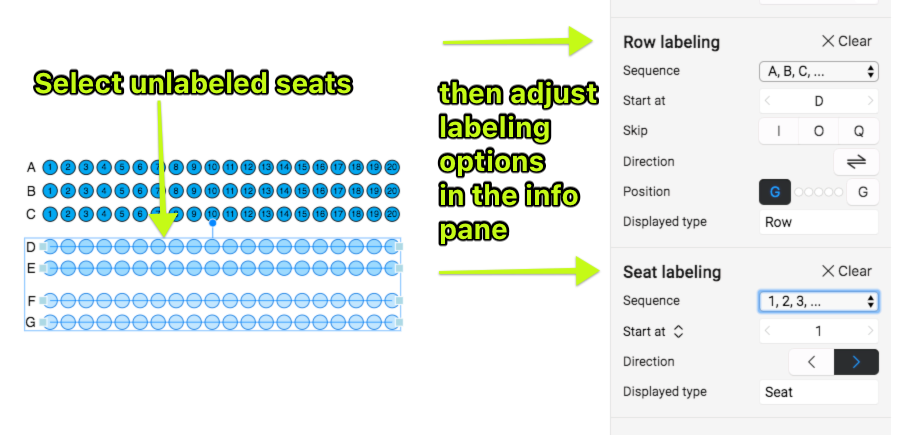 Assigning Ticket Categories
Ticket categories (formerly known as ticket inventories) are used to assign ticket types to the seats. When an event is created you will create ticket categories that are either reserved or general admission tickets. Any event with just reserved or both reserved and general admission categories will require a seating chart.
To assign a ticket category for seats, select the seats and then choose the appropriate category from the list at the bottom of the information pane. The color and different price levels for categories are set in the Ticket Settings on the edit event page.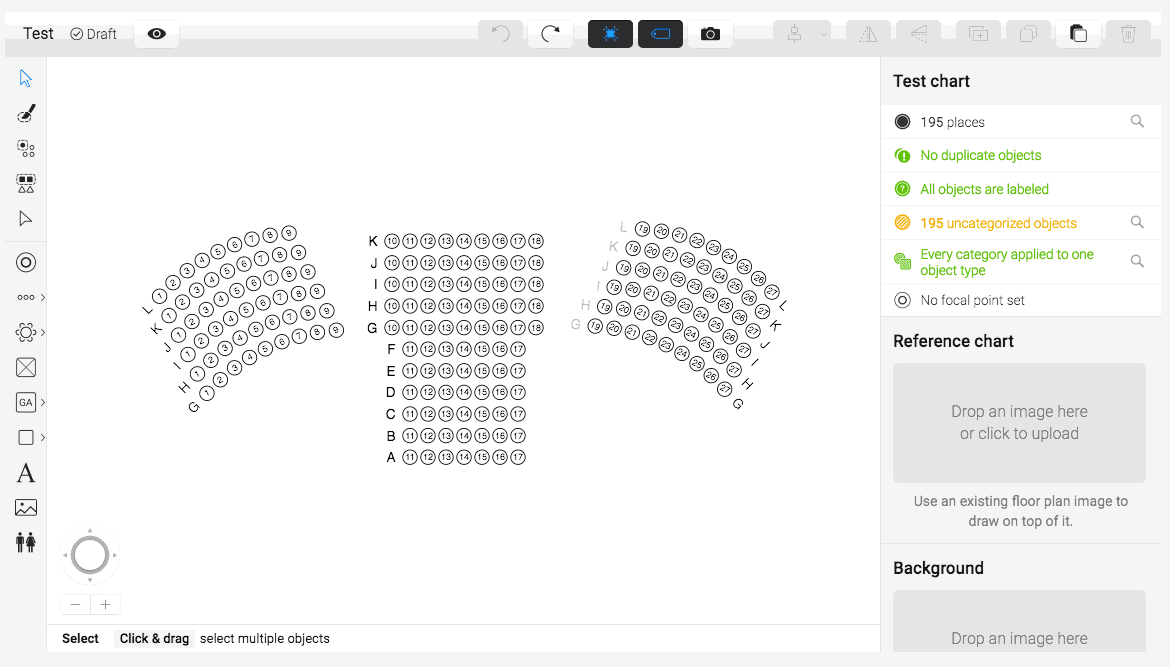 Incomplete Charts
Events with seating charts will not publish until all rows and seats are labeled AND all seats are assigned to categories.
Seats highlighted in red are flagged as having an error. This could mean that the seats still need labels, some could have duplicate labels, or some seats are not assigned to any ticket categories. Any possible errors will be displayed in the information pane with a short description. Clicking on the search icon next to the error description will show you the specific areas that need attention.