Donation funds allow you to solicit donations from your ticket buyers to your organization or to causes that you partner with. Our donations feature was designed to be used in conjunction with an event. An organization can accept donations directly, but the feature is optimized to be included in the ticket checkout workflow. It is recommended that you create an event with free or paid tickets to collect donations for your fund.
Donation funds are disbursed to the same bank account that your ticket revenue is deposited to and are paid out on a nightly basis (regardless of your payout schedule for ticket sales). There is a 2.5% cost for processing the credit transaction that is deducted from the donation before disbursement.
Each donation fund that you create will be listed on your Organization page under a Donations tab. Here, people will be able to make donations independent of purchasing a ticket. However, it is recommended that you create an event with free or paid tickets to direct users to make donations to your fund. See more info below about how to accept donations in an event.
Create the Fund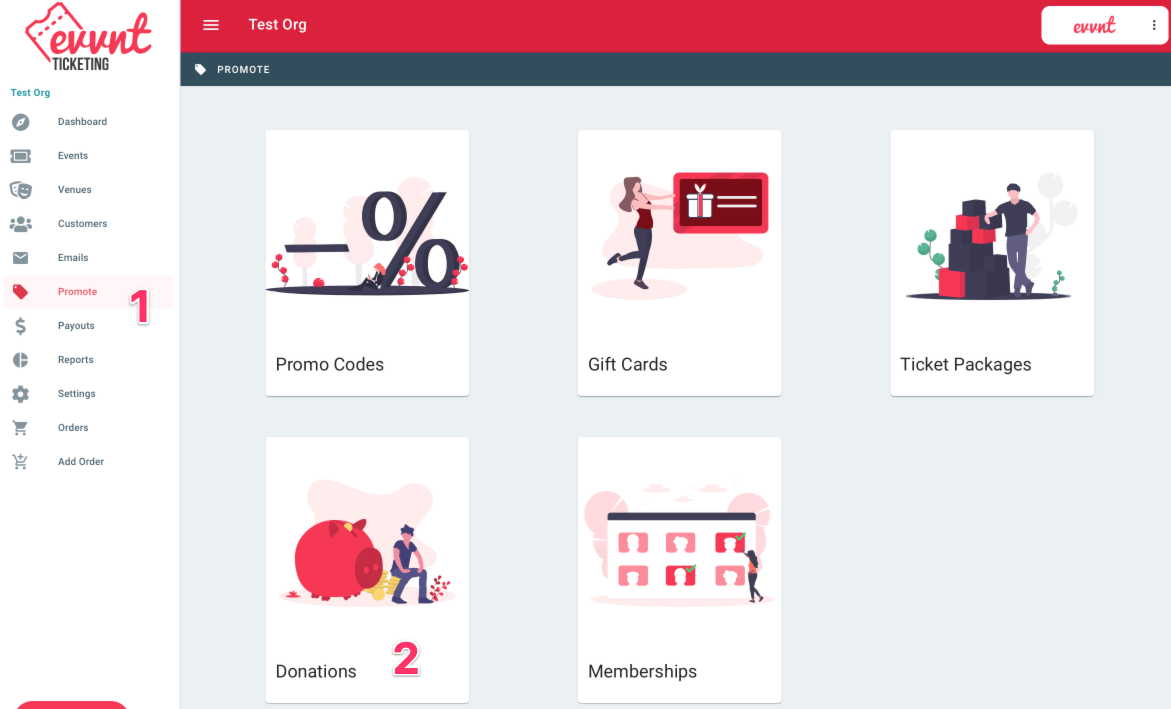 Navigate to the Promote tab in the main navigation (1) and click the Donations card (2, see image above). Click the "Add a Donation Fund" (if you have none) or the green circle "+" button next to the list of any existing donation funds. This will prompt you to create the fund.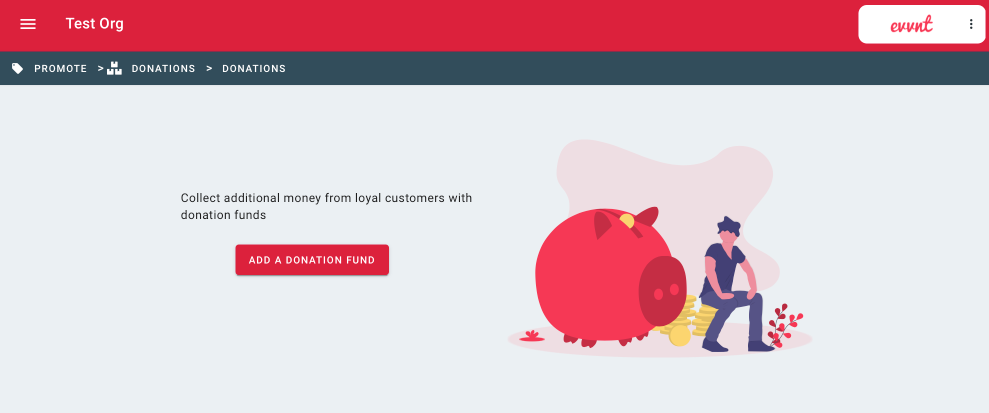 Here (see image below), you will be asked to input the basic information for the fund including the name, a description, and an image, all of which will display to users when presented with the option to donate (see image at end of article). You can also specify any pre-selected amounts that you would like to display to donors. Donors will always have an option to enter a donation for any amount they wish to give, but you can offer options to encourage giving.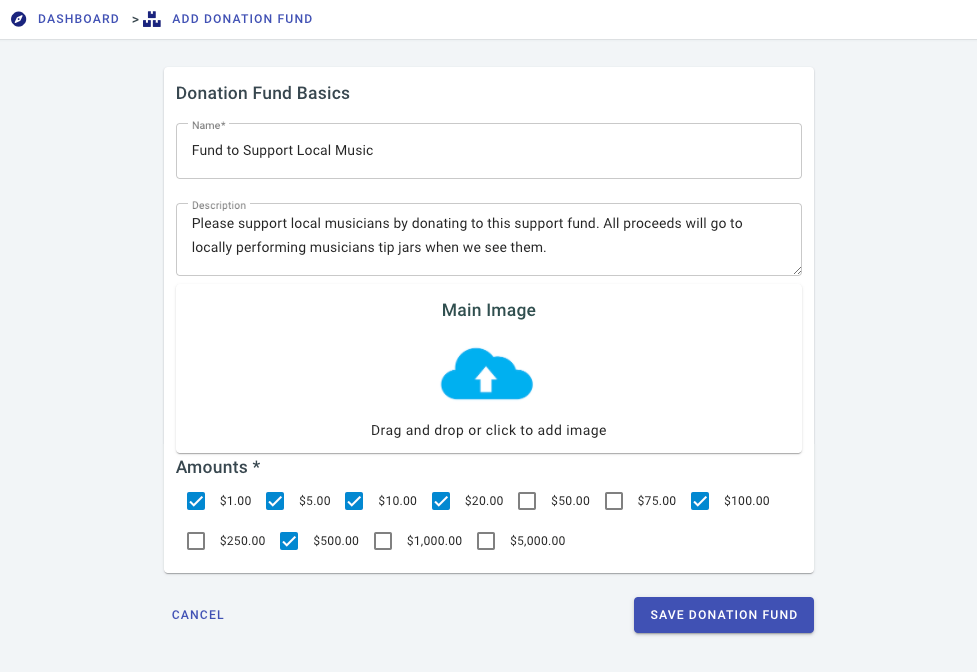 Click Save to activate your donation fund and it will appear on your organization page in a "Donation" tab (see image at end of article). You may add as many donation funds as you'd like, just note that they will appear in the order in which they are created. For information about how you can make donations available to customers, check out the FAQ - Where do customers purchase donations, memberships, and gift cards?
Edit a donation fund

To edit donation funds click the donation fund name (1) or click the three dots ... (3). You can also click the toggle to activate/deactivate your donation fund (2). You can edit the name of the donation fund, description, main image, or the default amounts. Don't forget to save.
Donations can be accepted when someone has decided to get a ticket to your event. Even if the ticket is free, the user is prompted to donate after they have selected their tickets. Any donation funds that have been created in the Promo section will be displayed at checkout when the option is toggled on. See animation below for how to toggle this option on, or head to our Additional Settings article here.
How to Enable Donations for Your Event:
Access Your Event List: Log in to your account and go to your event list.

Select the Event: Find the event for which you want to enable donations and click on its title to open the event details.

Edit Event: Look for and click on the "Edit" button. This will allow you to make changes to the event settings.

Access Advanced Settings: Scroll down the editing page until you find the "Show Advanced Settings" option. Click on it to reveal more options.

Find Additional Settings: Continue scrolling down until you locate the section labeled "Additional Settings."

Enable Donations: If you have an active donation fund associated with this event, you will see an option related to accepting donations. Look for a toggle or switch, and click it to turn on the option to accept donations.