Payment for ticket revenue is sent via an automated clearinghouse (ACH) transaction. The bank account it is sent to can be updated in the organization settings page by the organization account owner.
Access to manage bank information is only available to users that are an Account Owner. You can see who is the Account Owner in Settings > Users. An Account Owner user also has the ability to authorize other users to be Account Owners by creating a new user or editing an existing user and assigning them that role.
To update bank information:
Sign in as an Account Owner user. (see here for help logging in)

Use the left-side navigation menu to go to Settings

From the Setting page, select "Organization Settings".

If you are an Account Owner then you will be able open the connected Stripe account settings or create a connection to add or edit bank information.
NOTE: If you receive an Internal Server Error when trying to connect with Stripe, then your organization needs to have an address added in the Organization Settings.
Add Payment Information: Connect with Stripe
NOTE: Our system cannot connect to an existing Stripe account that you may have. Our system is a platform account that allows you to create a "Stripe connected account" that only exists within our platform. To be paid for ticket revenue, you will be asked to establish a connected account that only exists within our payment environment within Stripe.
Establishing a connection with our payment processor, Stripe, will allow you to securely add and update bank account information. This can only be done by the Account Owner of the organization in the Organization Settings.
Start by selecting the "Connect with Stripe" button.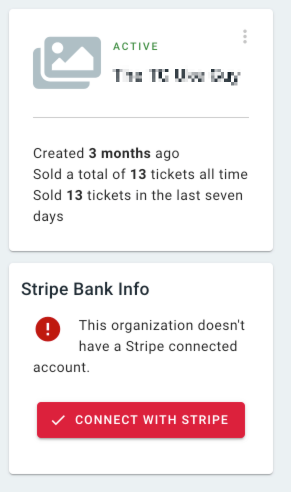 In addition to a bank account, you will be asked to provide information to Stripe based on their requirements.
A mobile phone number is required for user authentication. This mobile phone number will be sent a confirmation text that you will be asked to enter before you enter this page, and this will be the number used for verification if you need to enter this page in the future to update your bank information with Stripe.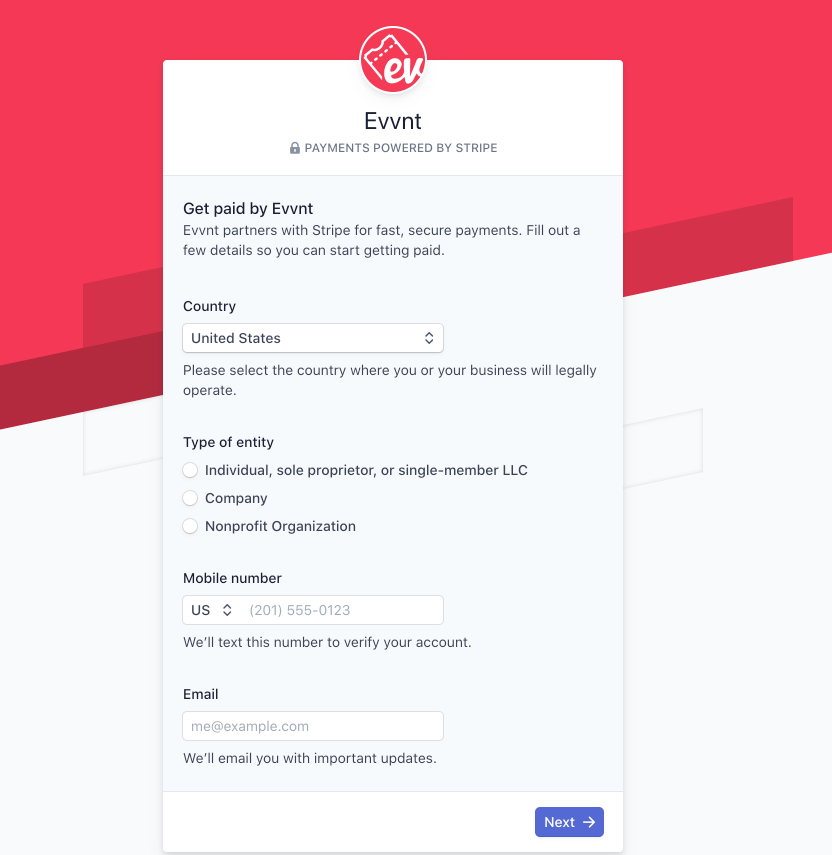 The Type of Entity selection in the above image will determine the information collected in the next steps. Provide that information and it will create a Stripe Express Connected Account.
When you select the name of your bank you may be prompted to provide a username and password for your online banking as a way for Stripe to find and verify your account. However, if you do not have the username and password for the online banking then there is an option to manually enter the bank account without entering the online banking user information.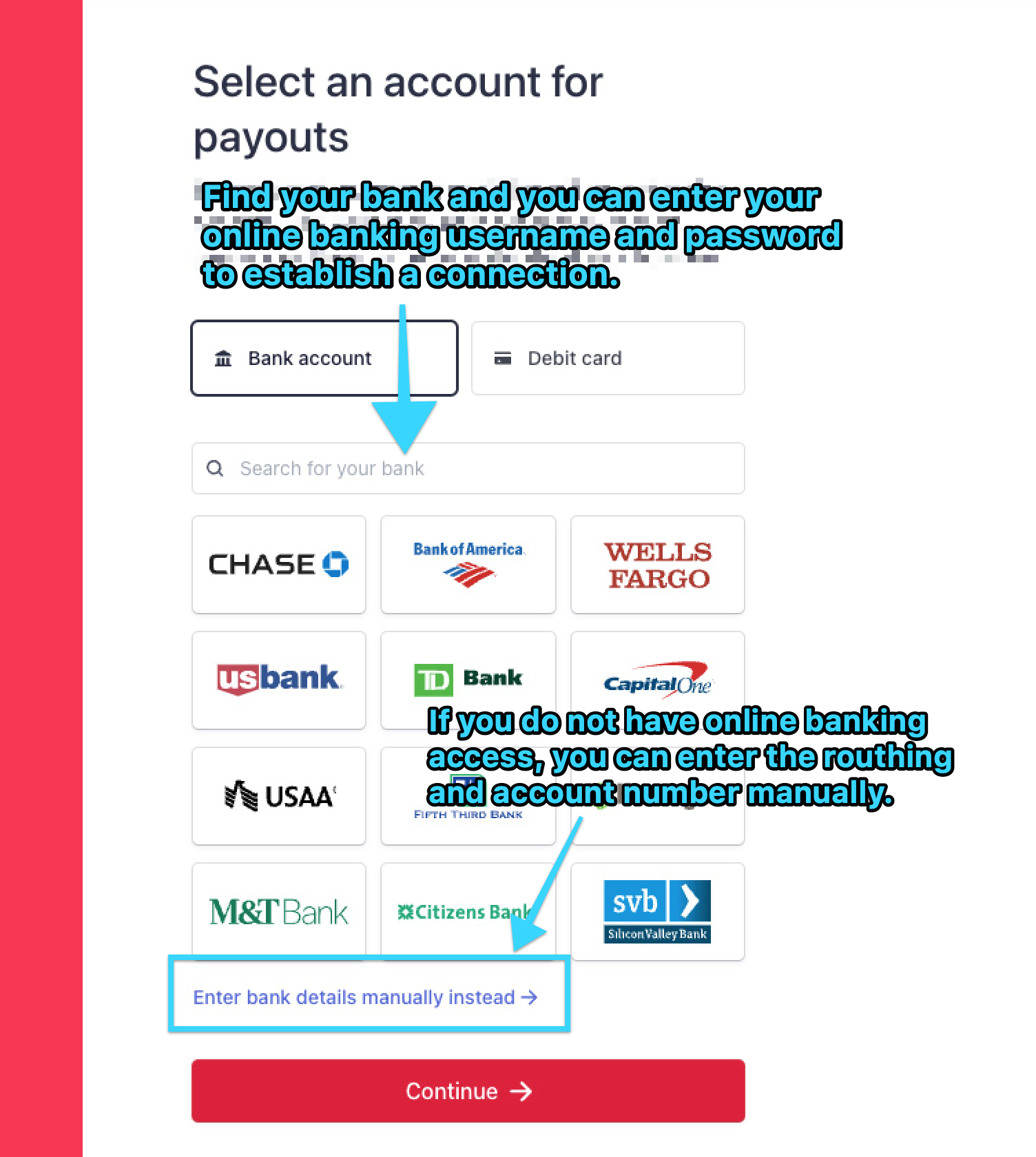 When you have completed the process successfully, your "Stripe Bank Info" card in your Organization Settings will show a green check mark (see image below).
If more information is required OR if any account information has changed, the Account Owner can navigate to the Organization Settings and the bank information card will now offer an option to "Update info with Stripe". This will open that secure connection to our payment processor so updated payment information can be provided.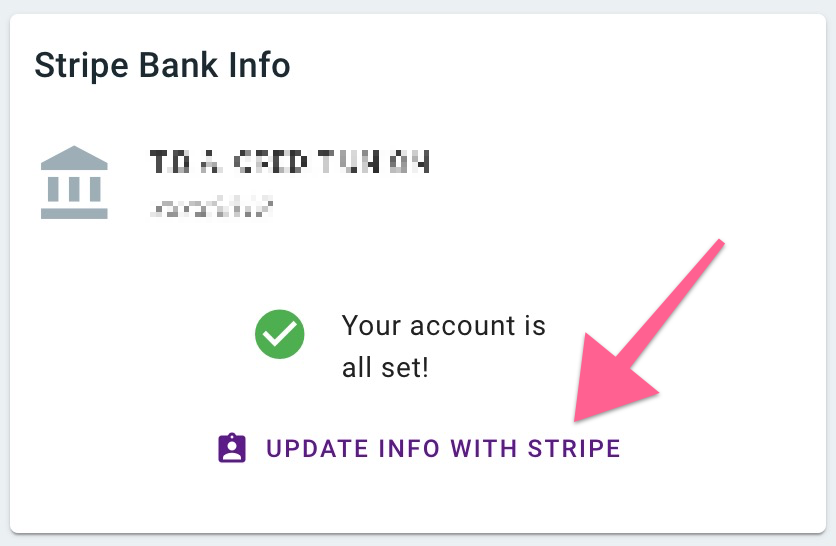 In some cases, Evvnt Ticketing account owners can login to update their Stripe Express account directly with Stripe via this login page: https://connect.stripe.com/express_login.
Stripe will ask for you to verify your identity by entering a six digit code sent by text to the phone number of record.
From the Stripe Express dashboard, you can review past payouts. To update information, click on the person icon to enter the "Your Account" section.

From here you can edit payout details and other personal or business information.
Upon reaching over $10,000 in revenue paid to your account, Stripe will pause your payouts and request that you provide a tax identification number. Stripe will notify you via email of this pause and the need for the tax ID so please do not ignore notices from Stripe. Note that the name of the organization as listed on the tax ID documentation should match what is saved in your Stripe info for your organization.
To avoid a pause in payouts, provide your tax ID now. See "Updating Bank Information" above for how to access your account info. The tax ID information can be edited in the "Platform Settings" in the "Your Account" section.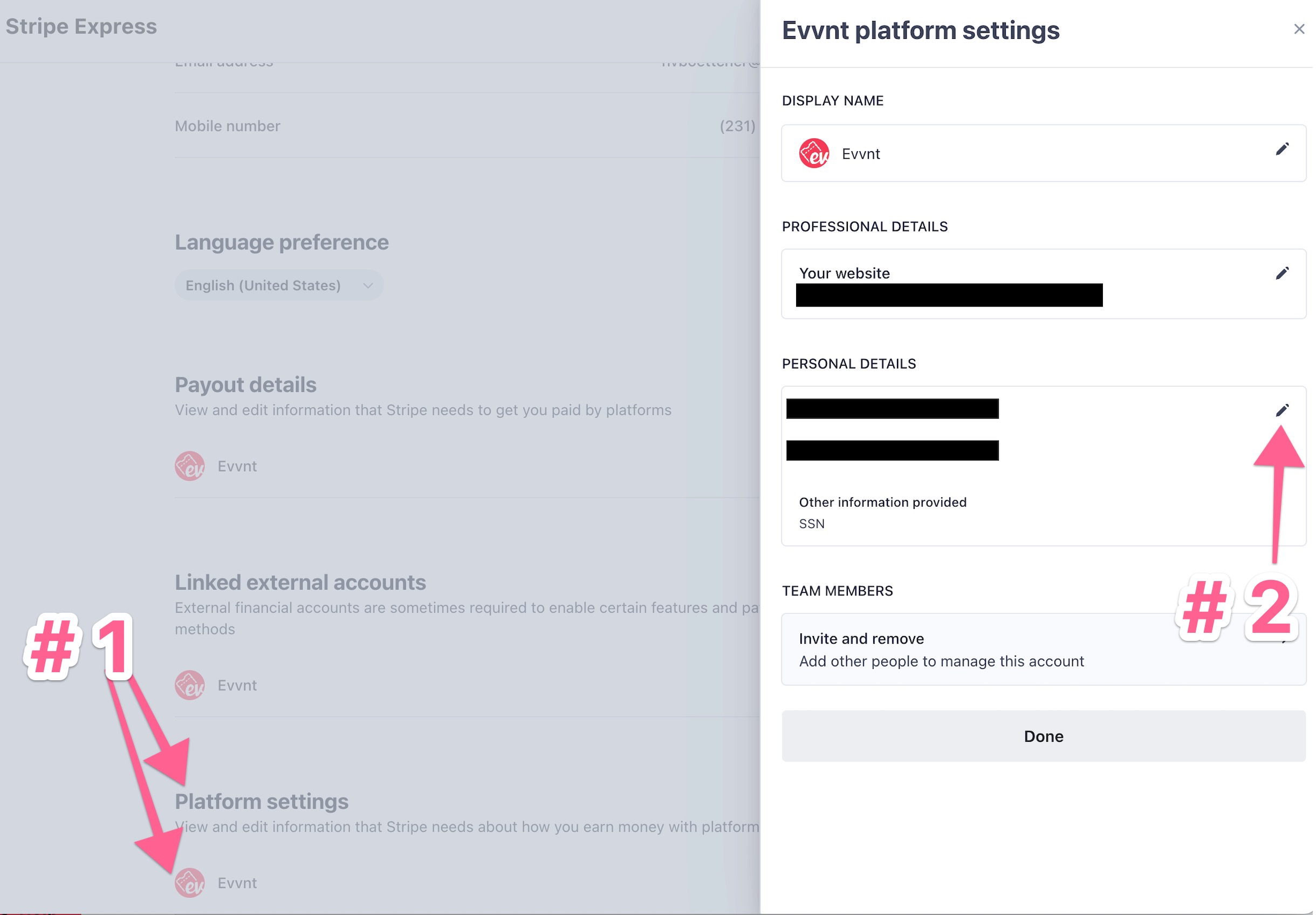 You can attempt to login to your Stripe Express account here: https://connect.stripe.com/express_login. When a Stripe Express account is created it will be associated with an email address and a phone number. That phone number will need to receive a code via text when a login is attempted.
If you have lost access to this phone number, then when you are presented with the request to enter the texted code you will look for the option that says "I no longer have access to this phone number". You will then be directed to find an email to the account email address with further instructions. If you continue to have issues regaining access to your account, you will need to reach out to Stripe Support directly regarding your "Stripe Express" account.