The membership feature allows you to sell a membership to a customer at an up front cost that then allows them to purchase tickets from you at a discounted rate for a defined period of time. The membership is tied to the ticket buyer's user account on a ticketing site. Memberships will only work when the user creates an account login before purchasing the membership. This establishes the user account so they can login to have a membership discount recognized.
It is not recommended to use the membership feature to manage your organization "membership". If you want to sell a membership for your organization that has no discount, and would like to do this through our ticketing platform, I'd recommend setting up a ticketed 'event' and sell 'tickets' that could be then used to take payment and record the start of the membership.
How To Create a Membership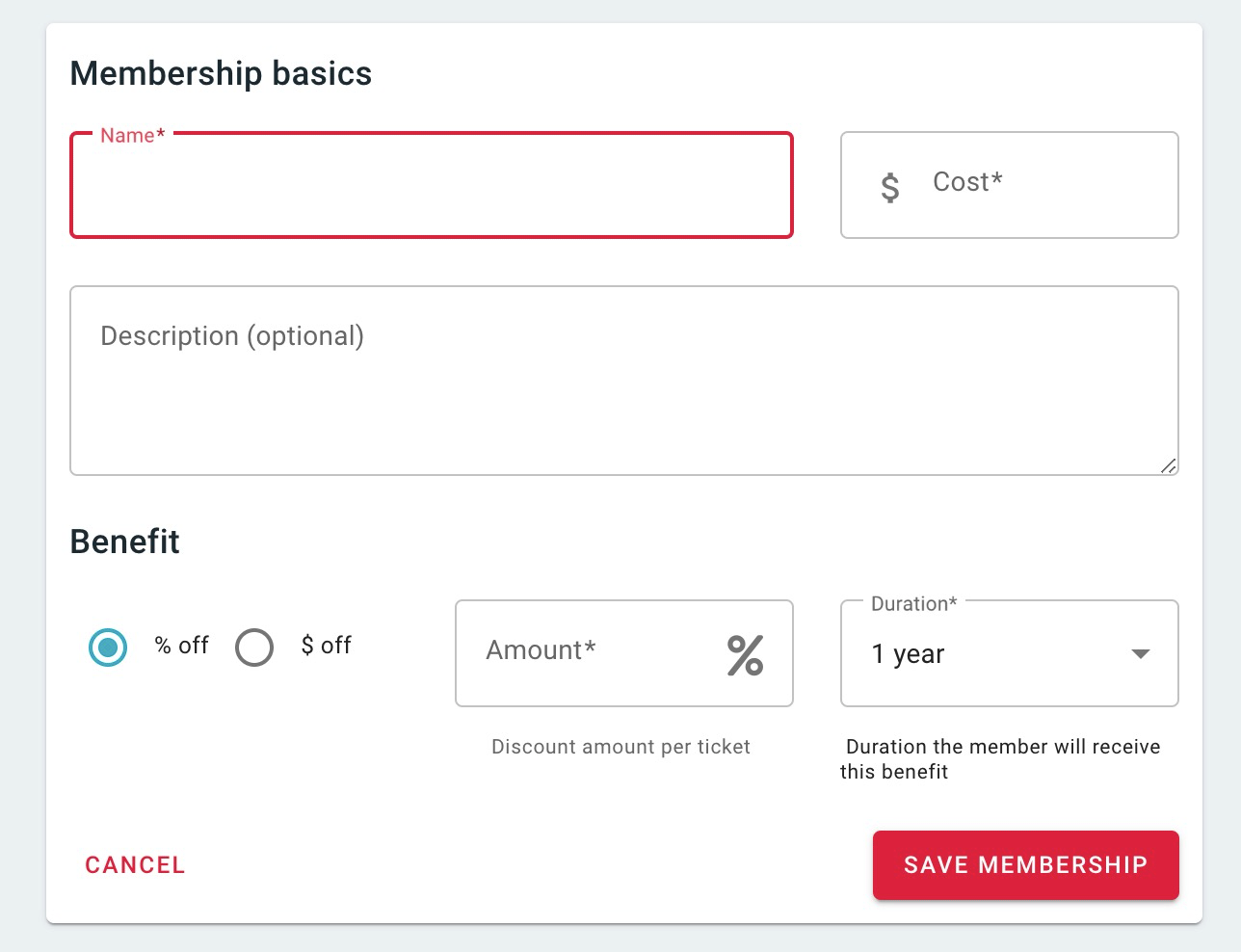 Navigate to the Promote tab in the main navigation and click on the Memberships card.
Click the + Add a Membership button to begin configuring a membership.
In the window that appears, name your membership. This is what displays to the customer when they purchase the membership
Add an optional description for the user to see when they are selecting the membership.
Determines whether the discount will take a dollar amount off of each ticket or apply a percentage-based discount
Set the amount of the discount, in dollars or percent, that will be applied to each ticket order when the membership is used.

Set the duration. This is the length of time from the date of purchase that the membership discount is redeemable

Save the membership and it will automatically become active.
At any time you can turn off the membership by clicking the blue toggle button. This will make it so no one can buy a new membership. Existing memberships will still receive discounts when the membership is turned off.

You can exclude tickets from the membership discount on an event-by-event basis using the Memberships toggle under the Additional Event Settings section of your Edit Event dashboard.
Your membership will now appear in the Memberships list for your organization where you can edit or delete it. When the Membership is on sale, it will be listed under the Memberships tab of your customer-facing organization page.
The intended use of the Membership function is to allow a customer to purchase a discount to your organization for a period of time. This is not intended to be a membership management feature or a CRM.