The web app allows you to process orders for your event for tickets that are marked to be sold online as well as those that are not sold on-line. If you need to process orders more quickly and do NOT intend to collect name and email with these orders, then you can use the new Express Checkout option.
Orders processed in the web app will be subject to a different processing fee. For more information, you can view your organization's "Box Office Ticket Fees" by navigating to your settings.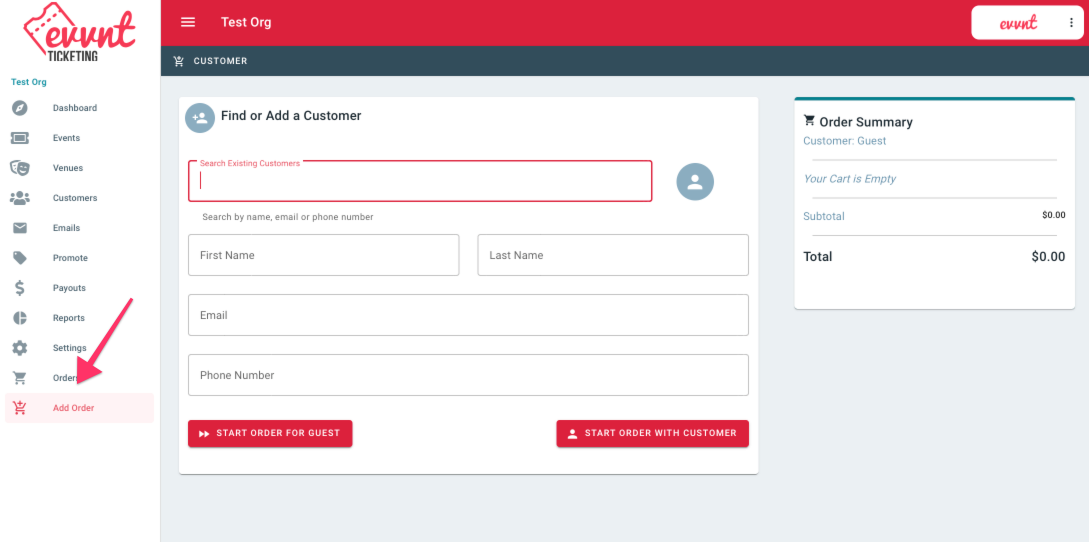 Click on "Add Order"

Search for an existing customer by name or email address OR select "Start order with guest" and you will add user name and email later.

Select the type of order from the options at the top. The steps below are for a ticket order.

Select the event (Note: buying tickets for more than one event will require more than one order)

Select the quantities of tickets for each type and they will be added to the cart. Change the quantity to zero to remove them from the cart.

Select Checkout

If applicable to the event, the next step will ask any registration questions, provide waiver information, or provide a chance to add a donation to the order. All of these are options that must be enabled from within an event's edit page.

The final page will ask for customer information, which will be pre-filled if the customer was selected in the earlier step.

Select the type of payment and enter the requested information.

You can make this a complimentary order by toggling the "Comp Order" option, and the order will process with no revenue or fees assessed.

Enter the billing information if the order is being paid by credit card.

Select Place Order

The order page will show the details of the order.