The Ticketing service is accessed via the Web App, which requires logging in with a verified user email and password. Users will have access to only the items in their purview as a Portal User or an Organization User. The information provided in this section of our knowledge base is designed for portal users, but the information related to events, tickets, promotions, and customers is also valid for organization users.
Navigation Menu
The web app is easily navigated using the menu on the left side of every page. Be aware that the navigation menu may be hidden when the browser window is less than a particular width. In this case, the three lines ( ☰ ) on the top left of the page will show the navigation menu.
Another useful part of the web app for easy navigation is the "bread crumb trail" just under the blue bar. The benefit of the bread crumb trail is that clicking on any item in the trail will take you back to that item's page. For the example below, clicking on "Venues" will navigate directly back to the list of available venues.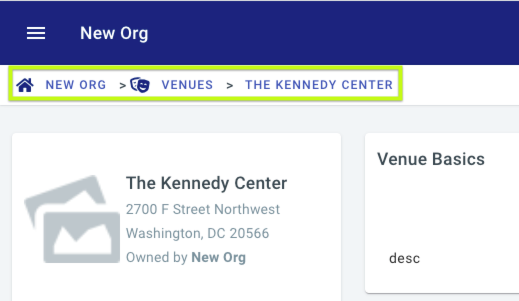 User Access
A portal user has permission in the system to make changes to items owned by an organization. For example, event and customer data are stored in an organization. If a portal user wants to adjust these items they will first need to "click into the organization". To enter an organization, simply go to the organization list and click on the name of the organization.
The main text in the top blue bar will change to show where you are as a user in the system. For example, in the images below a portal user in the "Portal of Awesomeness" is trying to access an event.
In the first image below, the portal user will not be able to save any changes to the event or its customers because the text at the top shows that they are still working in the web app as the portal. In the second image, the user will be able to make and save changes to the event because they first went to the organization list, clicked on the organization hosting the event and then navigated to the event. By doing that, they have entered the organization "Wyne Tray El" and can access all features of the system for that organization's event.


If you have more than one user type associated with your user email address, then you can easily switch between users with the option in the top right of the app. Clicking on the user image on the top right will reveal you different users and give you the option to act as any one of those user types by clicking on them.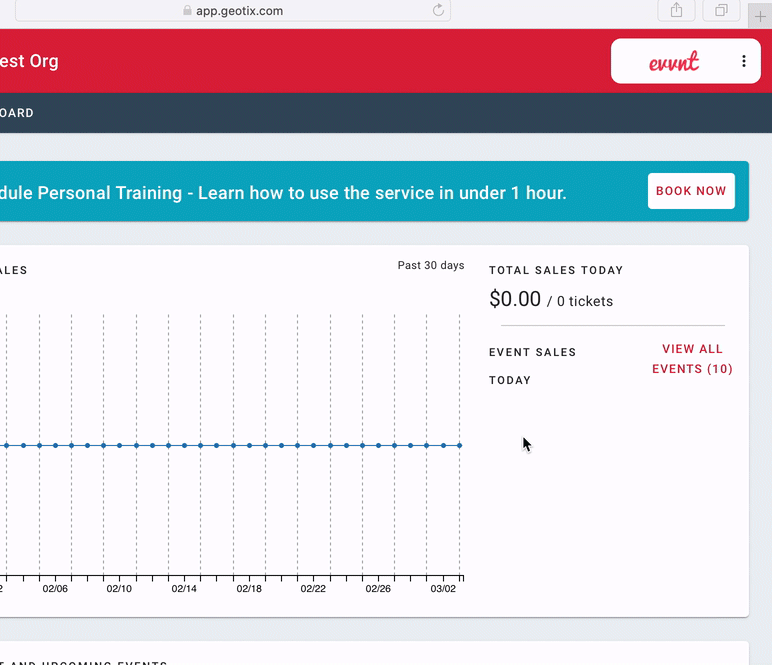 More Information
Learn about initial Portal Settings and information about creating users in our next systems training knowledge base article, Portal Settings & Users.