Email Broadcasts allow you to communicate directly with the ticket buyers for a specific event either in advance or up to 1-month after the event has happened. These communications are designed to be a reminder or follow-up. A reminder email will include a "View my Tickets" link and a link to view the venue address on a map.
If an event host is looking to send out marketing content to people who have previously purchased a ticket from you, check out our Mailchimp integration which allows you to export your customers' email addresses based on event as an audience in MailChimp.
How to Send an Email to Every Ticket Holder for an Event
Step #1: Login to your Evvnt Ticketing organization. Then select "Emails" from the left-side navigation menu.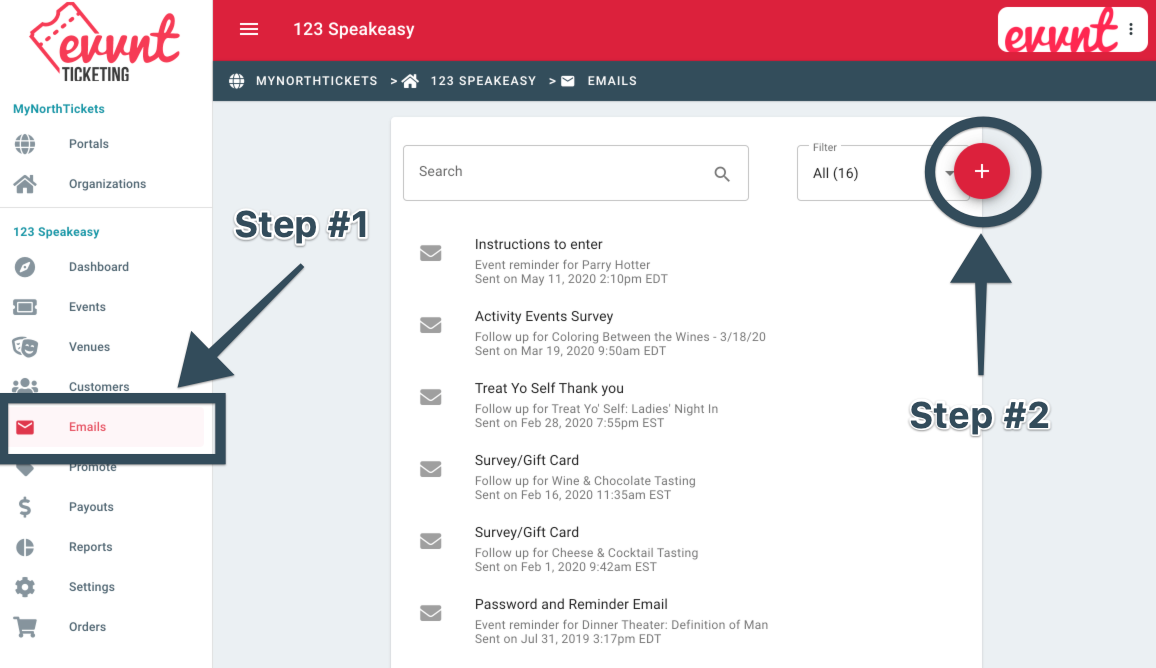 Step #2: Click the "+" button to add a new email, or click on any existing email (not yet sent) to make changes.
Step #3: Select an event from the list. Any upcoming event will be shown in this list, as well as any event that has ended in the past month. Note: to send emails to ticket holders from older events, please consider using our Reporting section or the MailChimp integration feature.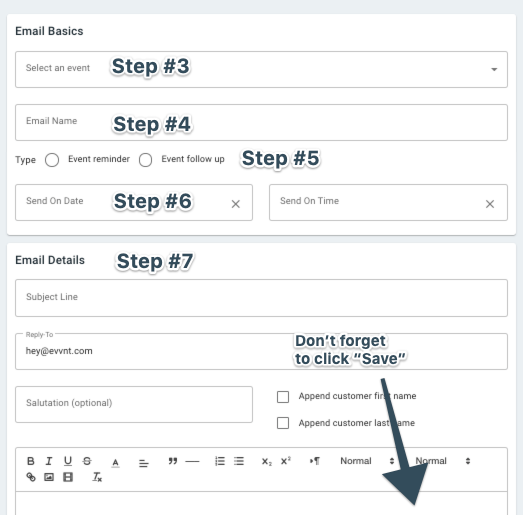 Step #4: Name the email for how it will appear in this emails list.
Step #5: Select if the email will be an event reminder or a follow-up email.
Step #6: Set the date and time for the email to send.
Step #7: Complete the email details, and click "Save Email" at the bottom of the email creation page.

The email will automatically be sent to any email address that is attached to an existing order in the selected event at the time of email send. You may send more than one email to an event list. A sample of the Reminder email is shown below. The salutation and text at the bottom are customizable. Everything else is automatically generated by the event information and the order information per customer.