Our mobile gate app can process in-person card and tap-2-pay transactions via the BBPOS Chipper 2X BT Reader.
How can I get one?
If you would like to have one on hand for your events, you can request a phone call to order over the phone. Send that request to tickets@evvnt.com.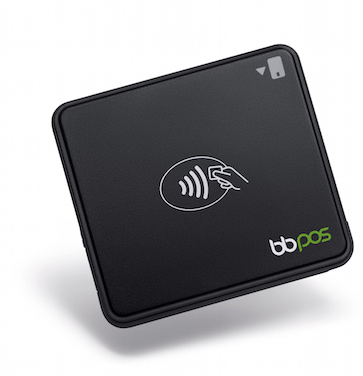 Connecting Card Readers
The Stripe bluetooth card reader will use proximity with the mobile device to establish a connection. When the gate app is open and an order is ready to take payment, selecting the option to "Swipe Credit Card" will show an option to discover the card reader.
DO NOT CONNECTED THE CARD READER IN THE BLUETOOTH SETTINGS OF THE DEVICE. To connect to the device, simply ensure the card reader is turned on and then, when "Swipe Credit Card" is selected in the gate app to complete an order, the app will connect to the nearest card reader. When it connects the light will turn steady blue. NOTE: Android users must manually enable location permissions in the app info.
Stripe provides detailed instructions here about that describes what the indicator light is showing.
If you have consistent issues pairing the device then you can try reseting the device and starting again. To reset the device you can use a paperclip to hold the "Reset" button, the small hole next to the plugin for charging. Holding that button for 10-15 seconds will reset the device and clear out any additional connections that may be interfering.