A ticket package allows a ticket buyer to purchase a specific number of tickets to multiple events as one transaction. Typically users are only allowed to buy tickets to one event per transaction. Making a custom ticket package lets you create special deals for a collection of some tickets to multiple different events.
Ticket packages are presented to customers as a list of events, some of which may have multiple event dates and different ticket types to choose from. Users select the dates and ticket types from list of events you set to be available in the package.
Watch the video here to see how you can create a ticket package:
You can create a ticket package in your Evvnt Ticketing app by selecting "Promote" from the menu. There you will see the "Ticket Packages" option
NOTE: before creating a ticket package, all of the events and ticket types that are to be included in the Ticket Package must already be created in the system.
The organization hosting the events will be able to create packages by selecting the following options:
The price of the package

The dates during which the package will be available for purchase

The number of tickets per event

The number of events the customer can select

The list of events to choose from

The dates to choose from for any recurring events

The ticket types available for each event
How to create a Season Ticket Package
To create a ticket package for a "Season Ticket" you would need to have all of the events and tickets that you would to be included in the package already created an active in our system. Then, when you create the package you can select those events and any specific tickets for the package to be sold together. See the video above for help for creating a package.
How to Purchase a Package
Customers should be directed to your organization landing page, the link found in the Organization Settings of the app. An example of this page is shown below. Grab the URL from this page when viewing it in your browser and include it in your online promotional content OR make it a QR code.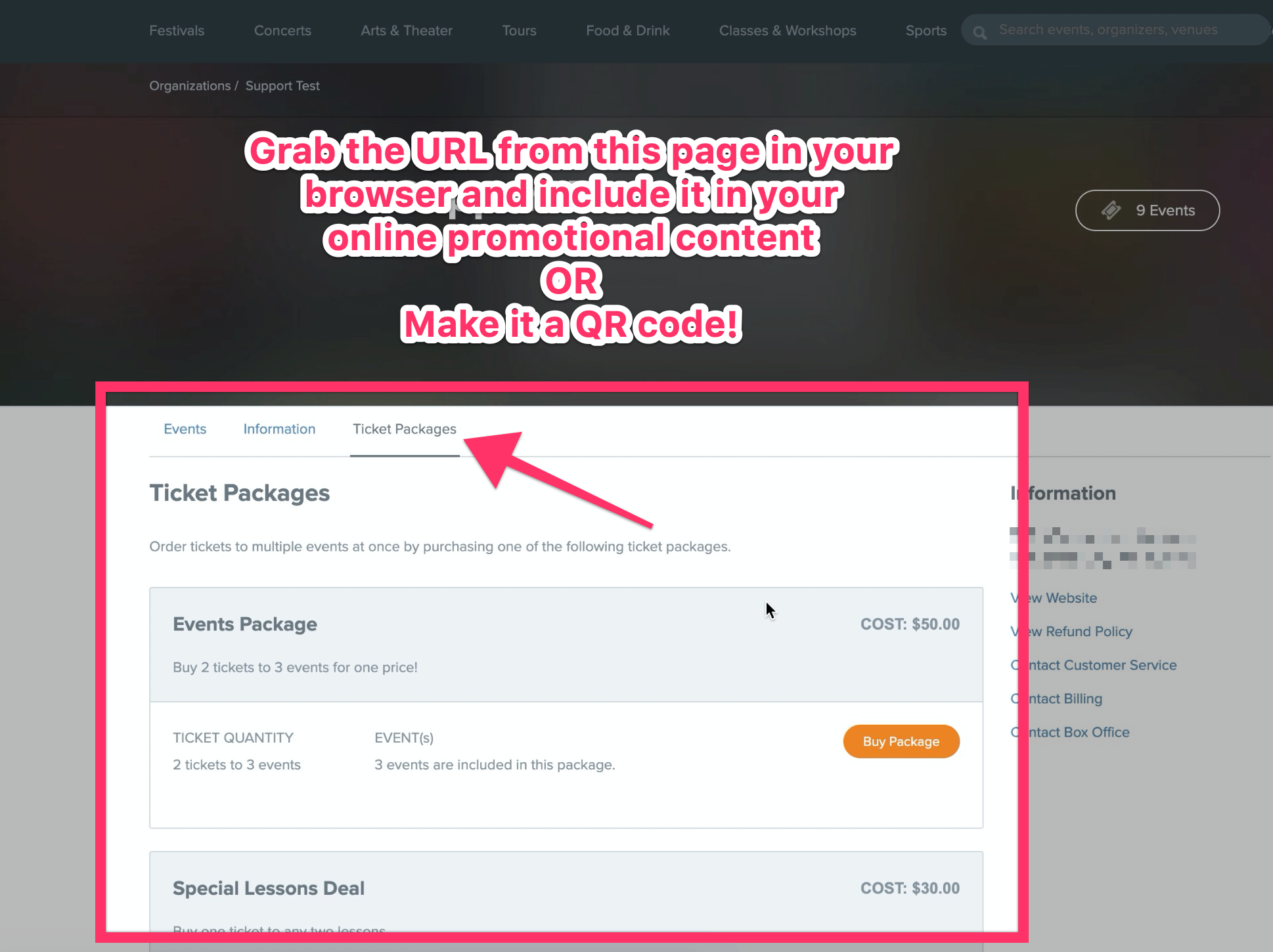 Fees for Ticket Packages
Fees are calculated on a per ticket basis, so there is some additional figuring needed to be done to determine the "price" of each individual ticket in a package. The fees are calculated based on the number of tickets in the package and the average price found taking the set cost of the package and dividing it by the total number of tickets bought in the package.
See more information here: How are ticket service fees calculated?