When a customer purchases a ticket for an event via Evvnt Ticketing, tickets are generated with a unique QR code and other information. The QR code on the ticket can be scanned via the Evvnt Ticketing Mobile App whether the ticket is printed or displayed on a device screen.
Ticket buyers will receive a confirmation email to the email entered at the purchase screen. The confirmation email will have a link to "View my tickets" if "E-ticket" or "Print" are the delivery method (there will be no "View my Ticket" link if the delivery method is "Will Call" or "Mail").
Default Ticket Design
An example of a default ticket design is below: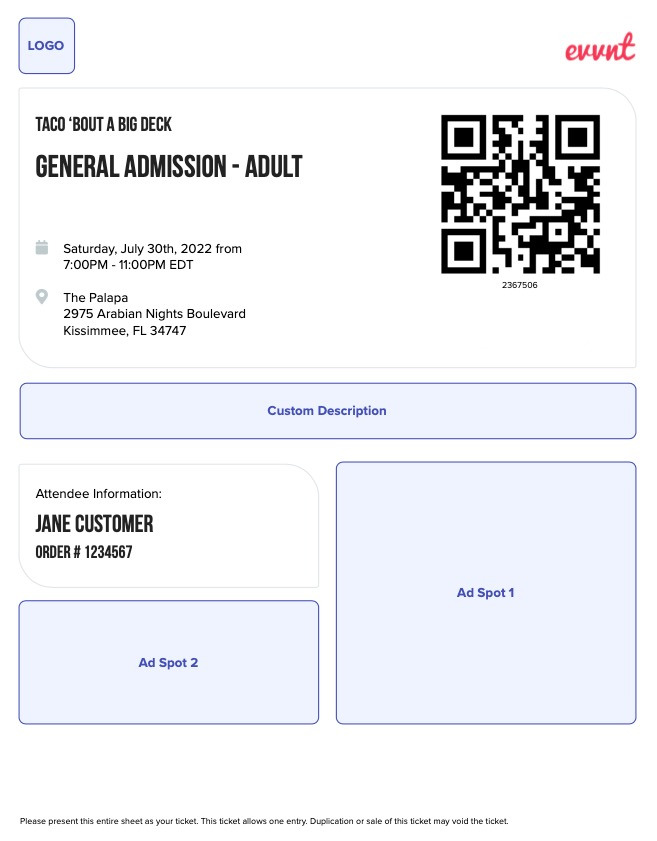 Custom Ticket Design
When editing an event, there is an Advanced Settings option to use a customized ticket design.
You can add these elements to the ticket design:
Add a custom logo
Add custom text
Additional information
Two images or ad spots
Below is an example of a customized ticket with a description and an ad image. The ticket category and name are shown below. You will see the text of the category and price level are both shown on the ticket the customer receives.

Example of a customized ticket