There are a few options are available for how you can setup your weekend festival on Evvnt Ticketing.
Create a Multi-day event with one ticket page (preferred).
Create multiple one day events to have several unique ticket pages
Create one recurring event with multiple versions of the same ticket pages
Option 1 is ideal, especially if you want users to be able to purchase any combination of tickets to each day all from one page in one checkout. However, selling a multi-day pass for option 1 means you will not be able to check-in those tickets more than once so someone that uses a multi-day ticket on the first day will appear as already checked in when attending on day 2. If that anomaly is acceptable, then option 1 is likely best for your needs.
Option 2 or 3 is best if you expect your visitors to only attend one of the days of the festival. If a "Weekend Ticket" is available, then you may want to use option 1. However, you can still sell a weekend pass using a "Ticket Package" if you choose one of these options and setup the different days of your festival as unique events in our system.
If you have questions about what option is best for your unique needs, please reach out by phone or text at 855-708-1078, or reach out by email to tickets@evvnt.com.
Creating a Multi-day Event for a Festival
When creating the event, select the multi-day option. This will give you an option to enter an end date that is different than the start date. Then fill out the rest of your event information and proceed to the step 2 to create the tickets.

You can create different categories of tickets to set the quantity for different days of your festival. When creating tickets, you have to create a category first, and then you create ticket prices that are within that category. Users will only see the ticket price name when selecting tickets at checkout, and then they will see the category and price name on the actual ticket (see ticket example here).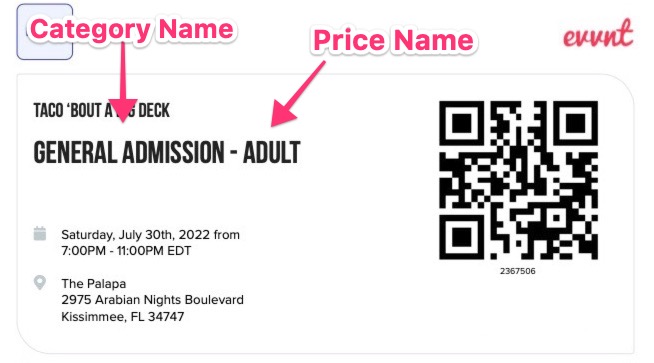 For more help in understanding how to create different ticket types in your event, see here: Create Tickets & Edit Ticket Settings.
Ticket Check-ins for Multi-day Events
When your event attendees arrive at the event, their tickets can be checked-in once. If you do create a ticket that is a "Weekend Pass", it is likely that you created it as one ticket and will only be able to be checked-in once. If you would like users to have two tickets for the separate days, then you can sell a weekend pass as part of a "Ticket Package" offer.