You can support your event hosts by having a stock of devices available for operating the gate at events. Our mobile box office app runs best on iOS devices (iPads or iPhones) and payments can be processed from cards or mobile tap-to-pay options when using our secure Stripe card readers.
See all our recommendations below.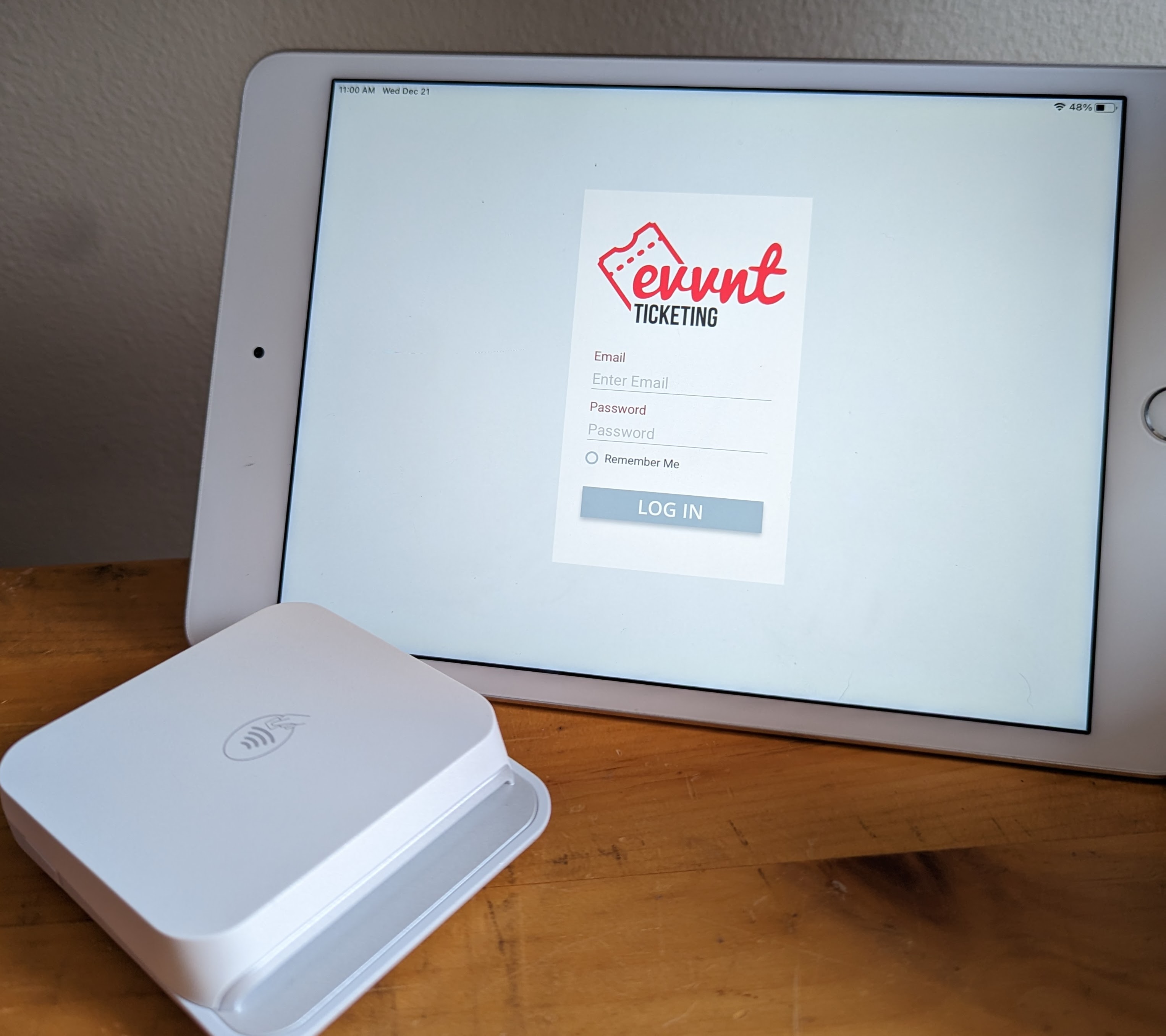 Entry Points For Your Event
We recommend having at least two staff members and two separate lines at each entrance to your event. One line should be for guests that have already purchased tickets, and another line for guests that need to purchase tickets.
Some guests may be happy to buy their tickets while waiting in line. It is convenient for everyone to have a "Skip the line!" poster for those guests that can pull out their mobile device, scan a QR code and buy tickets online for instant delivery. Those guests can then switch over to the faster-moving line for scanning tickets.
Taking Cash?
If you plan to accept cash then we recommend including a hidden ticket that will ring up to an exact dollar amount.
We recommend at least two devices at each entrance: one device for scanning tickets and one for processing new ticket purchases. Each device should have our mobile app, available for iOS devices that use iOS 15 or later.
For reading credit cards, we recommend having a Stripe card reader for each device that is processing sales. These can be ordered via Evvnt support, and should be purchased at least a week before your event to ensure shipping in time for the event. You can chat with us in the app, reach us by phone at 855-708-1078, or reach out by email to tickets@evvnt.com. More info here: Card Swipers and the Mobile box office app
If you have a floor plan event then you will need a laptop to sell new tickets as the mobile app cannot load a floor plan for seat selection.
The Evvnt Ticketing Box Office App
The Evvnt mobile box office app is your option to easily scan tickets and process purchases at the gate. The app is available for iOS devices (iOS version 15 or later). The app uses the device camera to view ticket QR codes to scan to check-in tickets. You can process purchases of new tickets (except for floor plan events). You can enter card numbers manually or the app also can pair with a custom card reader (available for purchase) to take credit cards by swipe or chip as well as accepting Google or Apple tap-to-pay options.
Review the mobile box office app guidebook for a review of how the box office app works.
Card Readers
If you plan to take purchases at the gate of your event then you will want to have a Stripe card reader. They can only be purchased over the phone with our support team. You can find more information here: Card Swipers and the Mobile Box Office App
"Skip the Line!" Poster
We recommend making a poster with a QR code that takes viewers to your ticketing page(s). More info here: How to Make a "Skip the Line" Poster for your Event.