The new version of the Evvnt Mobile Box Office app is available in the Apple App Store for iPhone and iPad (iOS 15 or later). The app is available for devices that support iOS 15 or later. Android users can download version 9 of the mobile box office app available in the Google Play Store.
Our software works as fast as people can move through the gate. We see an average of 7-8 tickets checked-in per minute per staff member, meaning that one person can process up to 500 ticket scan in an hour with good line management. Scanning is quickest, but new sales are also quick when a card reader is connected. We see that a multi-lane gate can usually process 3 new credit card orders per minute while still scanning 10 tickets per minute.
For quickly accepting credit card payments, a specific card reader is necessary that you must get from us. Learn more here.
Download and print this visual user guide to show staff how to scan and sell tickets using our mobile box office. Also, share this video playlist with your volunteers to make them instant ticketing experts.
SPECIAL NOTE: Tickets that are attached to a seating chart cannot be sold via the mobile box office app. If you are planning to sell seats on a seating chart at your event, you will need a computer to do so, or you can post a "Skip the Line" posted to sell tickets.
Login with your Evvnt Ticketing User
Your login for the mobile box office app is the same login that you use to access the web-based ticketing admin pages here. You may see options to select an account if you belong to more than one ticketing organization or portal in our system.
You will first be taken to a list of your events in the box office section. You will see that there are options at the bottom of the app for selling, scanning, and finding tickets. Click on the last option, "Settings", and you will find a link to our help center as well as an option to log out.
Scanning Tickets

Allow use of the camera. Ticket QR codes are scanned using the mobile device's camera. The app should ask for permission to use the camera, and that can be managed in the app permissions in the iOS settings.
Select your event so that only that event's tickets can be checked in. Tap on "All events" to see the list of available events. When you select an event with multiple ticket types, you will have a similar option to scan all ticket types or restrict your scanning to specific tickets.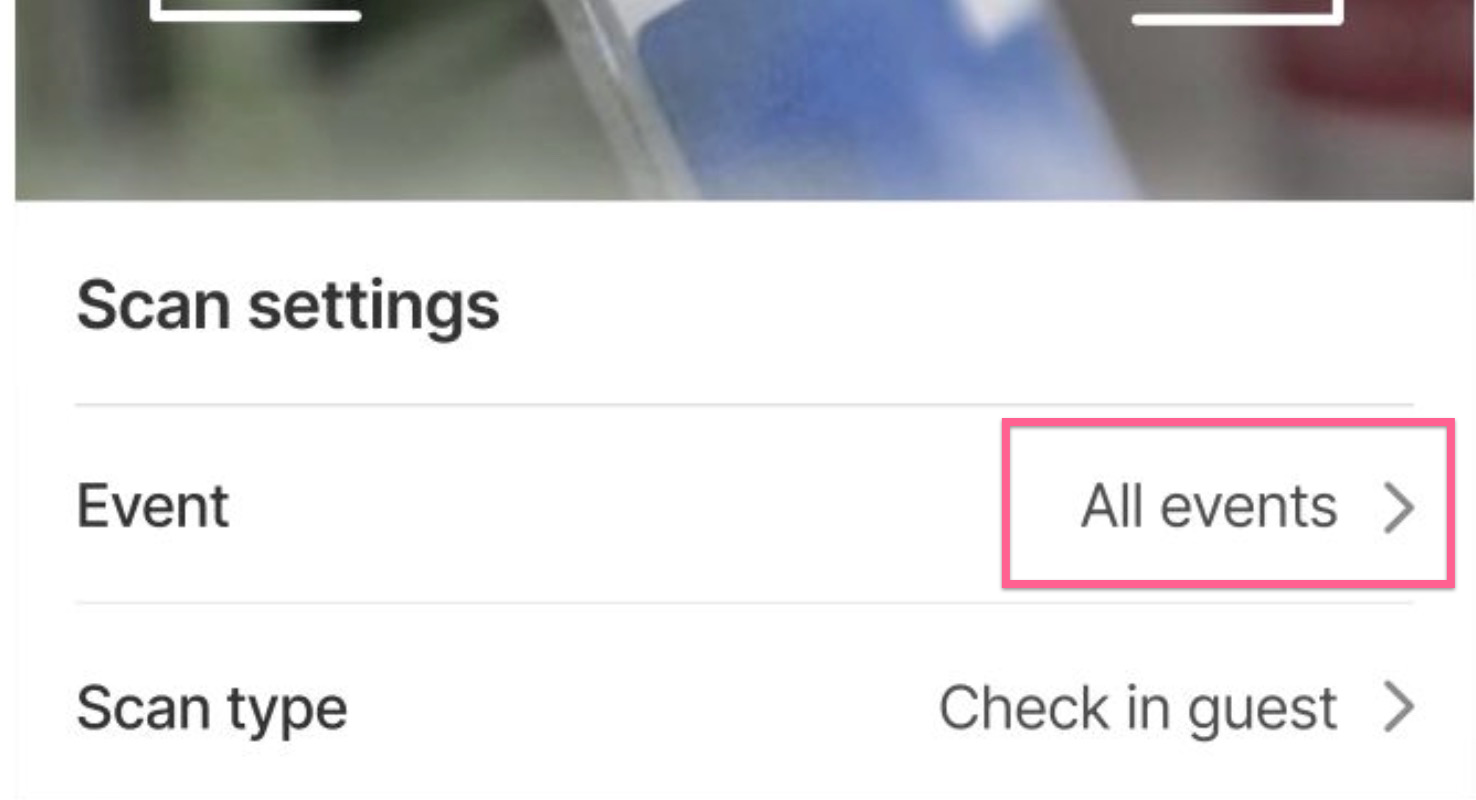 When a ticket is scanned the device will provide a sound and vibration. When a ticket is successfully checked in a green notice will appear. If you click "View Order" then you can quickly view and tap to check in all remaining tickets if all guests are present.

After a successful scan you can scan the next ticket after a 2 second delay. This allows you a moment to move your camera away from the current ticket to avoid scanning it again. If you accidentally scan the same ticket twice, you will receive an error notice. See more info in the Mobile App Guide below
More info about ticket scanning here
Order Search

Tap on "Orders" and you will see a list of all orders for all events in that organization. Tap on the search option to find an order by name, email, or order number. The search will show the name of the event. If you have the same event title for different dates then you will need to click into the order to see that date of the event for that order.
Click on an order to view the event date and the tickets. Click on the tickets and you can tap on tickets and select "Check in" to check in multiple tickets at once. There is an option to refund tickets from the order page (available for admin users only). You can refund individual tickets or all tickets in an order. A refund will return the full amount of ticket price plus all fees.
More info about finding orders is here
Ticket Purchases on Mobile
Tickets are available for sale in the app based on the ticket sales start and end dates (set in the event's ticket settings in the admin). There is no option to override sales start and end dates in the mobile app. A hidden ticket can be created if you want to have a ticket type that can be sold by staff in the mobile app and not bought by customers online. Be sure your hidden tickets will be available to sell by setting appropriate sales start and end dates
Select the Box Office option from the menu and you will be asked to select an event, and a list of available tickets will display. Scroll up and down to see all available ticket types, and click the "+" and "-" to add or remove tickets from the order. Click "Payment" to continue to the payment options.
Credit Card sales
With a card reader, credit card transactions can be processed via chip, magnetic stripe, and Apple or Google Pay. Use of the card reader requires the mobile device to have location features enabled and the app will need permission to access the device location. The app should ask for permission to use the camera, and that can be managed in the app permissions in the iOS settings. More information: Card Swipers and the Mobile Box Office App
Without a card reader, you can select the "Card" option from the top of the screen and you can manually enter the card number, expiration date, and secret code.
For all credit card transactions, a box office ticket fee, any additional fees and taxes enabled, and a merchant processing fee will be applied to the ticket sale.
Cash sales
Any tickets can be bought with cash. The app will allow entry of any dollar amount and show the change expected for that transaction. A box office ticket fee and any additional fees or sales taxes will apply to tickets bought with cash. There is no merchant processing fee for cash transactions.
Comped tickets
Selecting the Comp option will create the order for zero dollars. No fees will be charged in this case.
More information about selling tickets is here
Event Box Office Dashboard
The Mobile Box Office Dashboard shows revenue (only for admin users, not staff). All staff will be able to see how many tickets have sold and how many of those have been checked-in for that day's event. This shows realtime data and can be updated by dragging down from the top of the screen.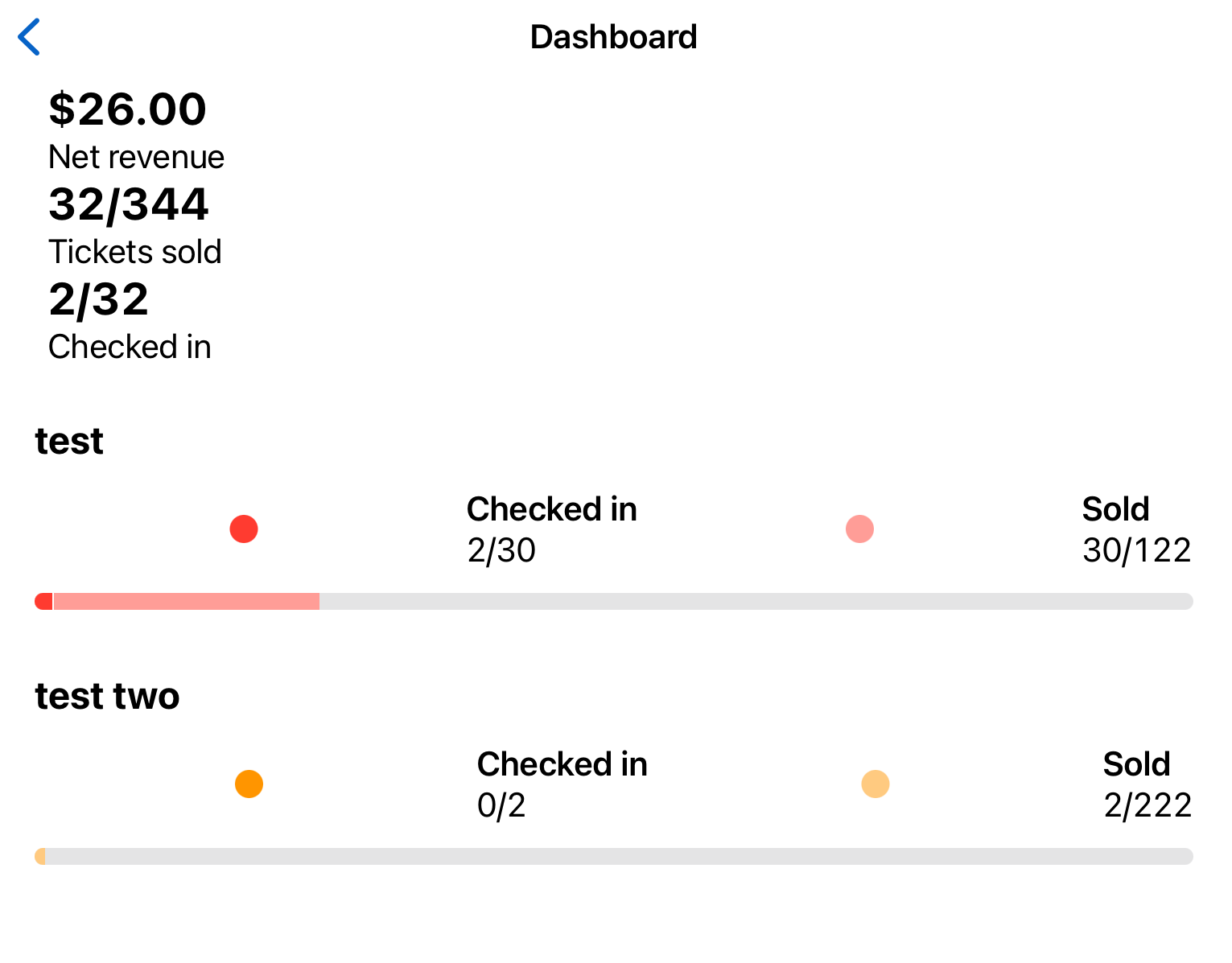 For more reporting options you can get access to the web-based platform to review reports about ticket check-ins via the ticketing admin pages.
Features coming soon
Promo Codes (coming soon) - use the ticket settings to create hidden tickets with special prices that can be used in place of promo codes.
Sales of reserved seating events - as is the case in version 9, the new app will not be able to process sales for events with a floor plan. This will be reviewed as an option to include in the future. Please reach out to us if you would like to see this added in the future.
See more info in the the visual guide below. For security reasons, only a reader purchased from Evvnt can be used with our mobile app, and that reader will only be able to be used with our mobile app. When you have a reader, connecting it for the first time may require a software update. Make time for the reader to sit connected to the device for up to 5 minutes before restarting your first connection. When an update is finished, you can connect in a few seconds.
Connect to a reader from the settings or the payment screen. From the payment screen, you can select the option to "Connect Readers". You can also navigate directly to the readers list by selecting "Settings". Follow the steps below:
Turn on the reader by pushing the button on the side and you will hear a sound.
If your device asks if you should pair to the reader, select the option to "Pair".
Tap on the reader in the list. The last 4 digits of the reader ID will appear in the list
When you select the reader you will see an option to "Connect" in the top right.
Mobile Box Office Training Videos (playlist)
Learn how to use the Ticketing app in 5 minutes! Share this video playlist with your volunteers to make them instant ticketing experts.