The Account Owner in your organization can navigate to the Organization Settings and the bank information card will offer an option to "Update info with Stripe". This will open that secure connection to our payment processor so updated payment information can be provided.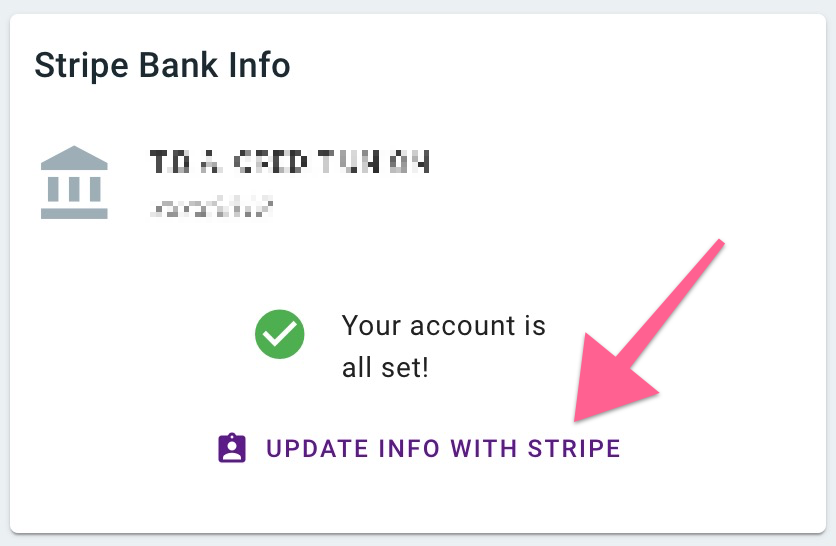 If you cannot access the link in the ticketing system, you can login to update the Stripe Express account directly with Stripe via this login page.
Stripe will ask for you to verify your identity by entering a six digit code sent by text to the phone number of record. If you do not have access to that phone number then you can select that option and they will email the code.
Once you have access to the Stripe Express dashboard for your account, you can update information by clicking on the person icon to enter the "Your Account" section.

From here you can edit payout details and other personal or business information.
Upon reaching over $10,000 in revenue paid to your account, Stripe will pause your payouts and request that you provide a tax identification number. Stripe will notify you via email of this pause and the need for the tax ID so please do not ignore notices from Stripe. Note that the name of the organization as listed on the tax ID documentation should match what is saved in your Stripe info for your organization.
To avoid a pause in payouts, provide your tax ID now. See "Updating Bank Information" above for how to access your account info. The tax ID information can be edited in the "Platform Settings" in the "Your Account" section.