Host an online event or turn your physical event into an online event with an "Attendance URL" as your venue. The URL must be a link and is immediately sent to ticket buyers upon purchase of any number of tickets. You may want to simply enter the name of the streaming service you plan to use for the event, or perhaps a webpage with further instructions.
Note that any private live streaming link may be sent via email broadcast to all ticket buyers at a set time to give access and communicate any other details about your online event.
Make Your Event Online
Any new or existing event immediately becomes an online event when selecting the "Online" venue type. When you do so, an option to enter a URL is provided. Simply enter a link for users to get on their tickets, and continue as usual when creating an event.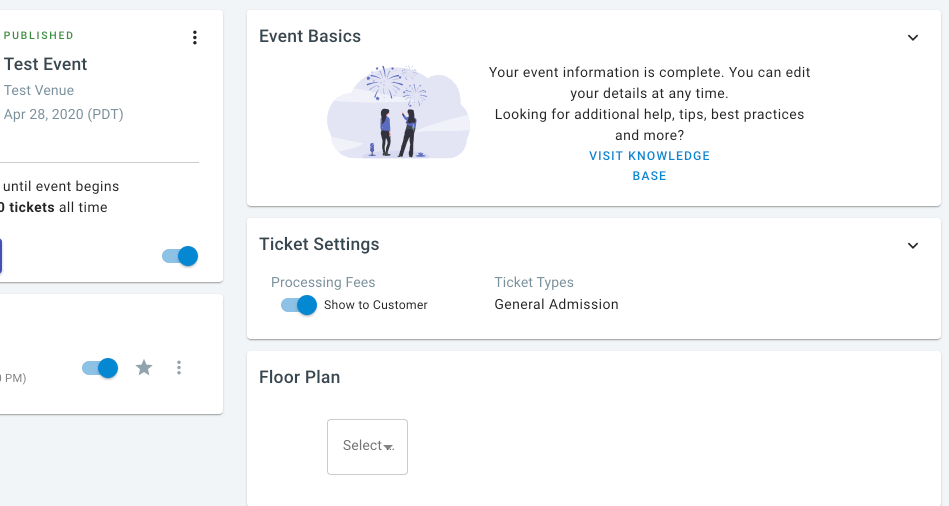 To make an existing event an online event:
Use the left-side navigation menu to go to "Events"
Find your event and click on the overflow menu (three dots), select "Edit..."
From the edit page, expand the "Event Basics" section
Next to "Venue type" select "Online"
Enter an Attendance URL that will be sent in the ticket confirmation email.*
Scroll to the bottom of the section and select "Save Event"
* The link you enter in step 5 will be accessible on all e-tickets via the email confirmation immediately after the ticket is sold. If you anticipate that ticket buyers may share the link in advance of the event date and impact your sales from that shared link, then it is recommended that you only enter the virtual event service domain (i.e. myvideo.com) into the event venue. Then, queue up an email broadcast with the live event URL (i.e. myvideo.com/live/39181684) to be sent within a half-hour of the start time.
Note: when you make an online event it will be visible on all ticketing sites in our network. Learn more about Online Event Syndication.
Communicating with Ticket Buyers
We recommend using our "event reminder" email broadcast options to schedule timely messages to be sent to your ticket holders about your event. It is best to send at least two emails with this service. First, send an email a few days or weeks in advance that provides some information about the online service(s) you plan to use to hold the virtual event. Second, schedule an email to be sent hours or minutes before you go live with the exact link and sign-in instructions along with any other last-minute recommendations for how to enjoy the event.
Preparing to go Live!
In the days before you go live, make sure you understand the different options for your streaming service. It is recommended that you do at least one test stream with a small audience, and make note of what the viewers will see when attending the event. Most streaming services have chat functionality that will allow your viewers to interact with you and each other, but you may want to consider adjusting which features are available during your event.
Here are some streaming service options you may want to consider: